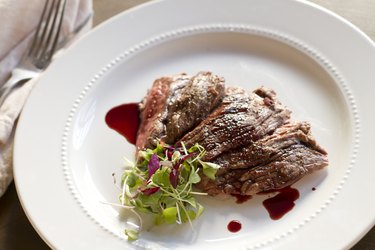 Skirt steak is known for its strong beefy flavor and is typically found in Mexican broiled skirt steak fajitas and Philadelphia, or Philly, cheesesteak sandwiches. Cooking skirt steak in the oven is an easy way to start a delicious meal.
Compared to strip or rib eye steaks, skirt steak generally costs about 50 percent less. Keep in mind it tends to toughen up if it's cooked to more than medium doneness. But be sure to cook it well enough to reduce risk of foodborne illness.
Step 1: Cut the Meat
Purchase two 4-ounce pieces of skirt steak, or cut your own 4-ounce pieces from a larger piece.
Step 2: Season Your Meat
Season the steak with salt and pepper to taste. For more flavor, place the steak in a bowl and pour a marinade of soy sauce, ginger and garlic over it. Cover the bowl with plastic wrap and allow it to sit for 10 to 15 minutes.
Step 3: Preheat the Oven
Preheat oven to 450 degrees Fahrenheit and place a large, empty pan or stir-fry skillet in the oven.
Step 4: Cook the Veggies
Spray a second pan with olive oil cooking spray and set it on the stove top over medium-high heat. Add the mushrooms and occasionally toss them around in the pan while they brown. They will start to caramelize in about 15 minutes.
Then add the olive oil and onion. Toss once or twice, then add butter, salt and pepper. After three or four more minutes, add thyme, stir well, remove from heat and set aside.
Step 5: Finish the Baking
Remove the pan from the oven and spray lightly with olive oil. Place the skirt steak in the pan and return to the oven for six to nine minutes, depending on how well done you like your steak. Then, flip the steak over and bake for half the time it cooked on the first side.
Keep in mind that consuming steak rare increases your risk of food poisoning, according to Mayo Clinic.
Step 6: Top and Serve
Place the steak on a serving platter and spoon the sauteed mushrooms on top.
Practice Food Safety
After cooking your skirt steak in the oven, check the internal temperature of your meat using a thermometer. According to the Academy of Nutrition and Dietetics, steak should reach a minimum internal temperature of 145 F to help reduce risk of foodborne illness.
Leftover skirt steak can be saved for another meal. According to the USDA Food Safety and Inspection Service, discard any food that is left out at room temperature for more than two hours. Each your leftover meat within three to four days, or freeze it for up to two to three months.
Things You'll Need
Salt and pepper

Large bowl

Marinade of sauce, ginger and garlic (optional)

Plastic wrap

Large-size pan or stir-fry skillet

Medium-size pan or stir-fry skillet

Nonstick olive oil cooking spray

8 ounces small crimini mushrooms, whole

2 teaspoons olive oil

1/2 small onion, chopped

2 teaspoons unsalted butter

1 tablespoon fresh thyme leaves
Was this article helpful?
Thank you for your feedback!