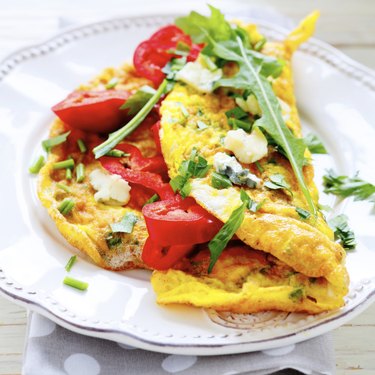 An omelet is a protein-rich dish that can also supply fiber, potassium and vitamin C, depending on what ingredients you add to the eggs. The butter usually used to cook the omelet adds a good deal of saturated fat to the final product. Replacing the butter with olive oil is a simple fix that will cut the saturated fat content of your omelet without changing the taste or texture.
Butter vs. Olive Oil
One tablespoon of butter contains 102 calories and 11.5 grams of fat, of which about 7.3 grams are saturated. For comparison, a tablespoon of olive oil contains 119 calories and 13.5 grams of fat. However, only 1.8 grams are saturated, which is far less than the amount in butter. Olive oil doesn't contain sodium, either, whereas butter can contain up to 91 milligrams per tablespoon. Olive oil contains more vitamin E and vitamin K than butter, but butter contains more vitamin A than olive oil.
More Olive Oil Considerations
Though butter does have nutritional value, olive oil might be the better choice. According to the Harvard School of Public Health, liquid fats, including olive oil, are rich in heart-healthy unsaturated fats. These are better for you than solid fats, which contain large amounts of saturated fat. Eating a Mediterranean diet, which includes a good deal of olive oil, can lower your risk of stroke, according to "The Wall Street Journal." A 2013 article published in "The New England Journal of Medicine," notes that a Mediterranean diet which includes plenty of olive oil might also reduce the risk of heart disease.
Making the Swap
Replacing the butter you might normally cook an omelet in with olive oil is a simple swap that will yield several nutritional and health benefits. Instead of melting butter in a saute pan, pour a drizzle of olive oil into the pan and heat it, instead. Pour beaten eggs into the hot oil and cook until your omelet is firm. If you don't have olive oil on hand, canola oil is another heart-healthy choice that also supplies omega-3 fatty acids, which are also good for your heart.
A Few More Tips
When you do cook an omelet in olive oil, do so over low to moderate heat. According to an article on the Eating Well website, heating olive oil to high heat causes the nutrients to degrade, which decreases the nutritional value of the oil. Boost the nutritional value of your omelet even more by adding vegetables to the beaten eggs. Peppers, onions, asparagus, zucchini, carrots and kale are a few healthy options that will add vitamins and minerals, as well as taste, to your omelet. Eat your omelet with a side of whole-wheat toast to add a bit of fiber to your meal.