While not eating enough calories in one day can make your stomach hurt, not eating enough over a long period of time -- weeks or months -- can have harmful effects on your body. Your body requires certain nutrients to stay healthy and keep your muscles working and your bones strong. The Merck Manual Home Edition defines not eating enough as eating less than 1,000 calories per day. Without enough nutrients, body processes may begin to be affected and ultimately shut down if you do not eat enough over an extended time.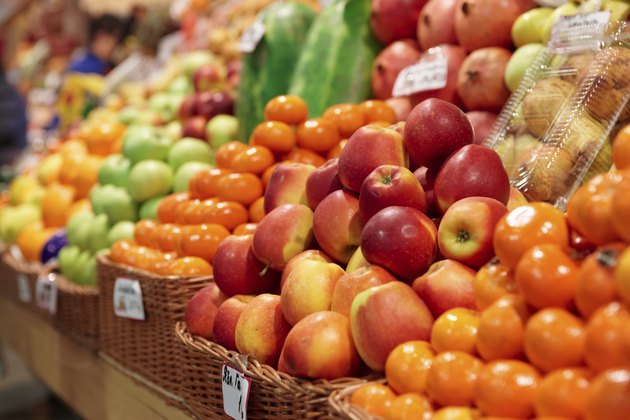 Fatigue/Sluggishness
Your body relies on calories from food to provide energy. In fact, calories are considered a measurement for energy in your body. When you do not eat enough calories, your body begins to use energy stores in your body to power your body functions and help you feel alert. However, continuing to eat too little calories without energy stores, you may experience side effects like feeling lethargic. This is because your body cannot spare extra energy from its daily functions -- like keeping your heart beating -- to provide you energy for movement, such as exercise.
Increased Bone Breakdown
Not eating enough calories affects your body's ability to produce estrogen, a hormone necessary to maintain healthy bone levels. While both men and women have estrogen, this effect can especially affect women. If women restrict their calories to a level at which they no longer have menstrual periods, they are more likely to have lower bone density levels. This makes bones more porous and increases the risk for bone fracture. As you age, your estrogen levels will continue to drop, further increasing your risk for bone wasting diseases such as osteoporosis.
Anemia
One of the most common side effects of malnutrition is iron deficiency that leads to anemia, according to Kids Health. Iron deficiency can result when you do not eat enough red meat, egg yolks, fortified flour, grains and cereals. Without enough iron in your body, you are not able to manufacture red blood cells. Red blood cells carry oxygen and immune cells in your body, meaning their destruction can have very harmful effects. Ultimately, prolonged anemia can lead to extreme fatigue and can place extra strain on your heart, which must work harder to pump healthy blood cells through the body.
Cachexia
Cachexia is a condition whose symptoms include wasting of muscle and fat tissue in the body. When you do not eat enough, your body takes fat and muscle tissue to use for energy. Severe undernutrition can cause you to lose as much as half your bodyweight. In addition to physical symptoms of muscle loss, cachexia causes symptoms such as fatigue, diarrhea, irritability, always feeling cold or unresponsiveness. Cachexia can lead to a shutdown in your immune system, which can increase your infection risk. Your body's systems, including your cardiac and respiratory systems, ultimately can stop working.