Running is a proven way for you to reduce or maintain your body weight, lower your stress levels, boost your cardiovascular fitness and even enhance your social life. As with all forms of vigorous exercise, however, occasional soreness and injury are virtually inevitable.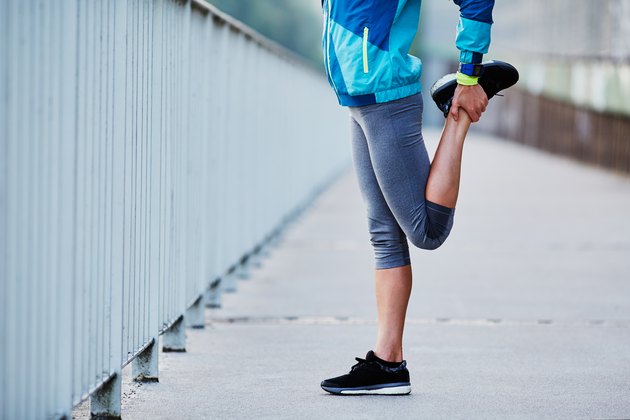 As the area where your trunk meets your lower body, the groin is a very common site of soreness after running. How you treat it and prevent a recurrence depends on the cause.
Overview of Groin Muscle
The job of your groin muscles is to pull your legs together, or adduct them. If you hold your knees apart using your hands and push inward against the resistance, you're using your groin muscles.
These come in five pairs. The two long adductors, consisting of the gracilis and adductor magnus, extend from the pelvis to the inside of the knee, while the three short adductors connect the pelvis to the femur and include the pectineus, adductor brevis and adductor longus muscles.
Treatment for Muscle Strain
Groin pain after running can be caused by a muscle strain. These injuries can often be successfully treated with home remedies. It is important to continue to move around, but rest from running or other activities that increase your pain.
According to the Mayo Clinic, ice can be applied for 15 to 20 minutes every two to three hours for the first few days after injury. Wrapping the area with a compression bandage can help control swelling. Elevate the leg above the level of your heart while sleeping to allow gravity to improve circulation.
Treatment of Osteitis Pubis
Osteitis pubis is the inflammation of the pubic symphysis, the site of articulation of the left and right pubic bones several inches below your navel. Symptoms include sharp or dull pain and tenderness that tends to worsen gradually over time as you continue to run. While usually localized to the site of damage, the pain sometimes radiates up into your lower abdomen.
Rest and icing are the short-term treatments for a sore groin after running. Strengthening exercises and stretching can help prevent a recurrence. If your legs are slightly different lengths, using an orthotic in one of your running shoes will help. See your doctor for an evaluation.
Treatment of Tendinitis
When you accelerate quickly from rest or rapidly change direction, you stress the adductor muscles, and over time, this can cause inflammation of the tendons connecting your adductors to your pelvis. The resulting groin muscle pain can radiate from the groin down one or both legs almost to the knee.
Unlike a tear, pull or strain, it is more likely to result from overuse than it is from something you did in a single workout. Treatment involves rest, icing the area, anti-inflammatory drugs and rehabilitation exercises.
Treatment of a Sports Hernia
Sports hernias, which are pathologically and anatomically distinct from ordinary hernias, can occur suddenly or come on slowly. As a runner, you're more apt to experience the latter. They are caused by damage to the adductor muscles where they attach to the pelvis as a result of weak musculature, allowing contents of the abdomen to push out.
Initial treatment is conservative —rest, ice, taking anti-inflammatory medicine as directed and physical therapy. Serious sports hernias that have persisted for weeks or longer usually require surgical repair and an extended recovery period that can last up to a year.