Despite the name, heartburn actually has nothing to do with the heart but instead is the result of acidic stomach contents escaping into the esophagus and causing a burning sensation, typically behind the breastbone and sometimes extending upward into the throat. This regurgitation is called acid reflux. Many foods seem to trigger heartburn, but cabbage is not usually included in the short list of common culprits. People differ, and it's entirely possible heartburn symptoms relate to cabbage in some, but at the same time, cabbage is high in fiber, which can actually help reduce heartburn in others.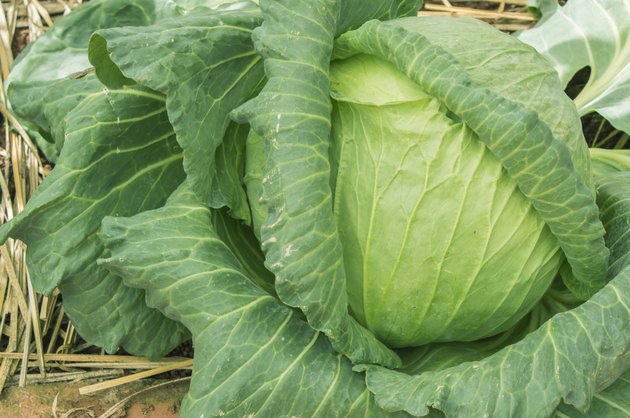 Association of Diet With Heartburn
The burning sensation of heartburn is due to acidic stomach contents rising up into the esophagus and irritating its lining. Besides a burning pain in your chest or throat, you might also experience a sour, acidic taste in the back of your mouth. Some people feel that certain types of food -- for example, beer or spicy food --cause their heartburn. Treatment guidelines from the American College of Gastroenterology do not recommend the general elimination of specific types of foods from the diet in order to prevent acid reflux. However, they do acknowledge that some individuals may benefit from elimination of certain foods.
Why Cabbage May Trigger Your Heartburn
One reason that some people may associate cabbage with heartburn is that some types of cabbage -- for example, fermented cabbage such as acidic sauerkraut or spicy kimchi -- may irritate an already inflamed esophagus. In addition, some people find that when they eat cabbage, they feel bloated or gassy. Cabbage, and other types of food such as beans and broccoli, can cause gas because they contain a carbohydrate called raffinose that is poorly digested and absorbed by the gastrointestinal system, resulting in gassiness and an increase in abdominal pressure. This bloating might make acid reflux more likely. Individuals vary in their ability to digest raffinose, so this might not be an issue for everyone.
Cabbage as a Source of Fiber
While some people may find that cabbage triggers their heartburn, there is evidence that high-fiber foods like cabbage can actually help prevent acid reflux. A diet high in fiber can help move food through the GI system faster, reducing bloating and indigestion that can promote acid reflux. In fact, a study published in the January 2005 issue of the scientific journal "Gut" found that people who ate a fiber-rich diet were significantly less likely to experience symptoms of acid reflux. Another 2009 study in the journal "Nutrition and Cancer" found that higher intake of fiber from fruits and vegetables was associated with a reduced risk of Barrett esophagus -- a precancerous condition linked to chronic reflux.
Steps to Prevent Heartburn
While the American College of Gastroenterology does not recommend elimination of specific foods in its GERD treatment guidelines, the college does state that individuals may find that eating certain foods aggravates their symptoms. Thus, if you feel that you consistently experience heartburn when you eat cabbage, you may benefit from eliminating cabbage from your diet.
When it's more than just occasional heartburn, guidelines recommend acid reducers called proton pump inhibitors such as omeprazole (Prilosec), lansoprazole (Prevacid) or esomeprazole (Nexium) for the treatment of GERD. Certain changes at home may also help, such as eating small meals and eating slowly; avoiding meals just before bedtime; and raising the head of the bed at night if nighttime symptoms are a problem. Occasional heartburn, gassiness and bloating are very common and typically not serious. For more persistent or troublesome gastrointestinal symptoms, however, see your doctor.
Is This an Emergency?
If you are experiencing serious medical symptoms, seek emergency treatment immediately.