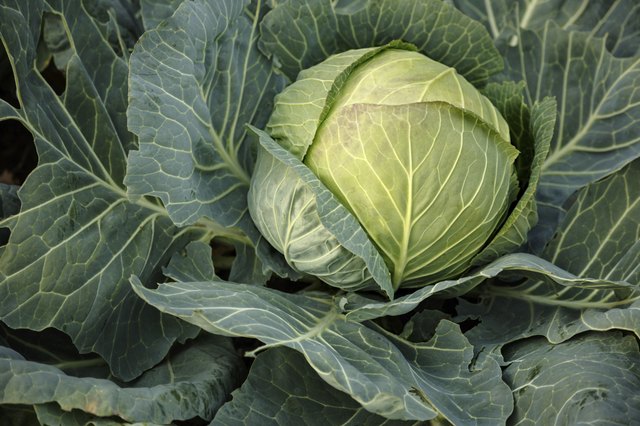 Cabbage's pungent flavor comes from sulfur-containing compounds that may help prevent cancer, reports the Linus Pauling Institute. Cabbage is also quite low in calories and packed with vitamins C and K. Despite these benefits, some people avoid cabbage because it causes gastrointestinal trouble. Sometimes it's described as hard to digest, but it's more accurate to say that cabbage contains a large amount of fiber, which simply isn't digested like other nutrients and can lead to side effects.
Breaking Down Cabbage
One cup of shredded cabbage only has 18 calories. Nearly 90 percent of the calories come from carbohydrates, and the rest are proteins with barely a trace of fat. Your body digests the proteins in the usual manner, which means enzymes break them down into single amino acids and they're absorbed into the bloodstream. Some of the carbs are simple sugars, so they're also easily digested and used for energy, but the remaining carbs -- raffinose and fiber -- aren't digested like other nutrients. As a result, they can cause some gastrointestinal problems as they pass through your digestive tract.
Raffinose Resists Digestion
The raffinose in cabbage belongs to a larger group of sugars called oligosaccharides. The human body doesn't have the enzymes needed to break apart these sugars, so they're not digested or absorbed. When they reach your large intestine, they're fermented by bacteria. During fermentation, gas is produced. The bacteria produce hydrogen, carbon dioxide and, in about one-third of all adults, methane, according to the Temple University School of Medicine.
Soluble and Insoluble Fiber
If you eat 1 cup of shredded cabbage, you'll consume about 2 grams of fiber, or 7 percent of the daily value for fiber based on a 2,000-calorie-a-day diet. The total fiber is split almost equally between soluble and insoluble fiber. Both types of fiber pass through your system without being thoroughly digested, and both offer health benefits. Soluble fiber helps lower cholesterol and balance blood sugar, while insoluble fiber keeps you regular by adding bulk to stool. Just like raffinose, soluble fiber is fermented in the large intestine. In addition to the potential gas and bloating from the fermentation, the insoluble fiber can cause diarrhea if you consume too much.
Consumption Tips
Everyone has a different tolerance for foods such as cabbage, so you'll need to experiment to determine the amount you can eat without side effects. Your system may adjust better if you begin by eating a small amount and gradually increase the portion. You may have fewer side effects from raffinose if you take over-the-counter medications containing the enzyme alpha-galactosidase, recommends the National Institute of Diabetes and Digestive and Kidney Diseases. People with gastrointestinal problems such as irritable bowel syndrome may need to avoid cabbage. Cooking cabbage causes the loss of some nutrients, but it doesn't affect fiber, so that won't help improve its digestibility.