A chicken diet involves using chicken as the central part of your eating plan. Chicken is a good component of a diet since if cooked properly, it can be low in fat and a healthy source of protein. One popular diet that uses chicken is the chicken soup diet. This diet is considered a fad diet and should only be followed with the approval of a doctor. It should only be followed for a short amount of time since it is very low in calories.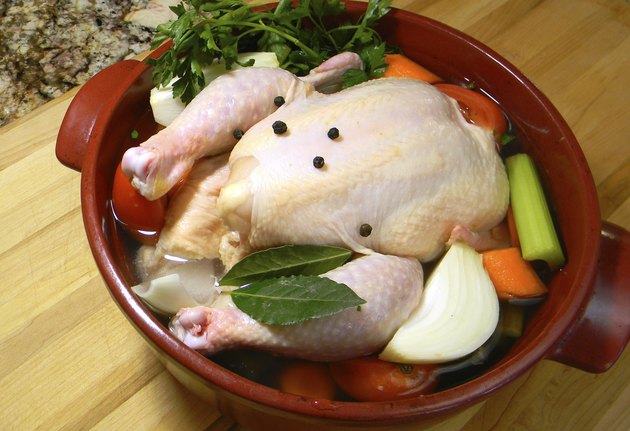 Step 1
Eat a low fat breakfast each morning. You are allowed one normal meal when following the chicken diet. Some examples of breakfast choices are: cereal with skim milk and a glass of orange juice; prune juice and whole wheat bagel with low fat cheese spread; nonfat yogurt mixed with fruit salad.
Step 2
Prepare the chicken soup for the diet. You will combine vegetables (broccoli, carrots, onions, celery, turnips, and jalapeno peppers) with chicken broth and fresh chicken to make a large pot of soup. To flavor the chicken soup for your diet, add parsnips, dill, lemon juice, salt and garlic. The amount of each item will depend on how many servings you wish to make. You will cook the soup over medium heat for 15 to 20 minutes until the chicken is cooked and vegetables are tender.
Step 3
Eat the chicken soup throughout the remainder of the day. You are allowed only chicken soup for the rest of the day while on this diet. There are no restrictions on the number of servings you can consume.
Step 4
Drink only water. Eliminate high calorie beverages on the chicken diet and drink six to eight glasses of water instead.
Step 5
Follow the chicken diet for a week. This diet is not meant to be followed for the long term and should only be used if you need to drop a lot of weight in a short period of time.