Push-ups will do wonders for your upper body giving you defined arms, a strong chest and toned shoulders — that is, of course, if you do them right. Doing push-ups with poor form offers weak results, or worse yet — it could cause an injury that makes any push-up uncomfortable or impossible.
Push-up form often falls apart at the elbow angle. When you bend your arms to lower into a standard push-up, the elbows should form a 45-degree angle with your torso. This gives you the most power and muscle-building effects for your chest.
The one position you don't want your elbows to assume for push-ups: Excessively wide angles where the points jut out to the sides of the room. This diminishes the muscles' activation and can put your shoulders and elbows in a potentially injurious position.
The Perfect Elbow Position for Push-Ups
For a standard push-up, place your hands a little wider than your shoulders and parallel to your armpit line. Bend your elbows, and keep them stacked over your wrists. If you bend them out widely so that they come out to the sides of or behind the wrists, you stress the elbow joint and reduce the effectiveness of the exercise, especially for your chest and shoulder activation.
Wide Elbows Reduce Leverage
Setting your hands widely with elbows pointing to the sides gives you a weaker foundation from which to push up and down. A long lever is less stable and powerful than a short one. When you let your elbows flare out, you compromise your muscle's ability to provide strength. You're actually undermining your true push-up potential!
Place your hands so that the fingers face forward or slightly outward, rather than turning in. This helps you keep your elbows in control so that they don't wing out. A study published in a 2005 issue of the Journal of Strength and Conditioning Research also noted that turning the fingers toward each other increases the risk of elbow injury because it increases the force on the elbow joint.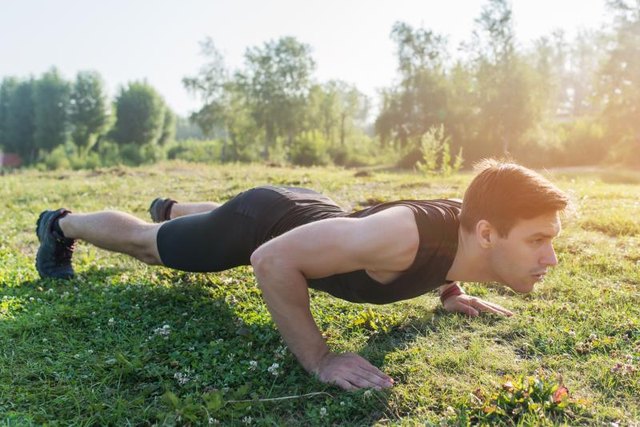 Slow and Steady
Along with keeping your elbows at a 45-degree angle with your body, a slow pace to your push-ups reduces impact on your elbow joint. A small study published in a 2010 issue of the Journal of Medical and Biological Engineering showed that push-ups performed at a fast speed notably increased the medial shear force and compression force at the elbow joint. This was true even when the elbows were in proper position.
The researchers also noted that a slower speed better recruits the muscles of the triceps and posterior deltoids at the backs of the shoulders.