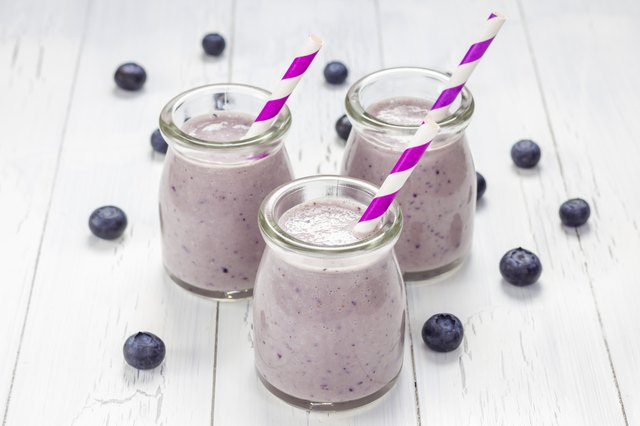 If you need help gaining weight, the two primary types of supplements to consider are weight gainers for calories and protein powder to promote muscle synthesis. Supplemental vitamins and minerals keep your metabolism working, which ultimately benefits your efforts, but micronutrients alone won't add pounds because they don't contain calories. To keep your weight gain healthy, follow a resistance-training program to build lean muscle and consult a healthcare professional to ensure you don't have underlying medical concerns.
Increase Calories With Weight Gainers
Getting enough calories to support weight gain can be challenging, especially if you participate in activities that burn a lot of calories. If you consume 500 extra calories every day, you'll gain 1 pound a week. With the right combination of nutrient-dense, high-calorie foods, your diet may get you to the goal. Nutrient-dense foods have a higher amount of nutrients per calorie. For example, if you compare 100-calorie servings of low-fat milk and a soft drink, the milk is nutrient dense because it contains protein, calcium, potassium and B vitamins, while soda doesn't have any nutrients.
You can also step up your caloric intake by taking weight gainer supplements, which you'll find on the market in diverse amounts of calories and nutrients. These products are powders that mix with water, milk or juice to make a high-calorie beverage. Different brands provide anywhere from 500 to 1,900 calories per serving. The calories primarily come from complex carbs, but some weight gainers contain medium-chain triglycerides instead of -- or in addition to -- carbohydrates.
Most weight gainers contain about 50 to 83 grams of protein. Some stand in as a multivitamin supplement thanks to the vitamins and minerals they contain, while others don't have any extra micronutrients. Some brands have diverse herbal ingredients. Make sure each ingredient fits your goal and is safe for your health. Don't hesitate to ask a healthcare professional to explain the ingredients.
Protein to Build Lean Muscle
As you increase calories, it's important to focus on gaining lean muscle mass so that the extra calories aren't stored as fat. To build muscles, you need resistance training and protein. Resistance training stimulates muscle synthesis, while also causing some muscle to break down due to intense activity. It's essential to consume enough protein to replace lost muscle and to build new tissue. You'll stimulate 24-hour muscle protein synthesis by getting at least 30 grams of protein several times during the day, according to a report in the Journal of Nutrition in June 2014.
The Institute of Medicine recommends getting 10 to 35 percent of your total daily calories from protein, which, based on consuming 2,500 calories daily, translates into 62 to 219 grams of protein. People engaged in light to moderate training can also determine protein intake by calculating 0.55 to 0.8 gram of protein for every pound of body weight, suggests the Academy of Nutrition and Dietetics.
Many people find they can meet their protein requirements through their normal diet. If you need a boost, weight gainers supply protein, or you could use protein powders or bars. Protein bars are convenient, but powders are versatile and usually contain more protein per serving. You'll find powders in many flavors and made from a variety of protein sources, including casein, whey, soy, egg and pea protein. Use your favorite flavor in shakes, smoothies, yogurt and cereal. Unflavored protein powder can even be added to tomato sauce, soup and burgers. Protein powders have about 20 to 25 grams of protein and 110 to 170 calories per serving.
Omega-3 Affects Weight Via Muscle Synthesis
Omega-3 fatty acids are essential nutrients for your overall health, but they may help you gain weight by promoting muscle protein synthesis. The body's omega-3 status influences the response of skeletal muscle during exercise, according to a report in Marine Drugs in November 2015. More specifically, omega-3 supplementation may increase the muscle's response to exercise. In addition to stimulating muscle building, one type of omega-3 -- eicosapentaenoic acid, or EPA -- may work as an antioxidant that protects muscles, reported researchers in the January 2016 issue of Cell Stress and Chaperones.
The recommended intake for total omega-3 fatty acids is 1.1 to 1.6 grams daily, according to the Institute of Medicine. Consuming fish at least twice weekly supplies the daily intake, but if you don't get enough fish in your diet, supplements are a good way to meet the need. Choose supplements containing both EPA and docosahexaenoic acid, or DHA. Don't take more than 3 grams of combined EPA and DHA daily without first consulting your physician, because they can increase the risk of bleeding.
Appetite Stimulants May Support Weight Gain
Some supplements contain natural ingredients that are supposed to encourage weight gain by stimulating appetite. A variety of herbs long used in traditional medicine are known to trigger saliva production, and this characteristic is used in supplements to increase your desire to eat. Some of the best-known ingredients in this category -- gentian, peppermint and ginger -- may make your mouth water, but the action of saliva production is not scientifically associated with significant weight gain.
Some appetite stimulants contain active ingredients extracted from Echinacea called isobutylamides. These substances work by stimulating hunger receptors in the brain, but research into their effectiveness has produced mixed results. Here's the problem: Echinacea contains 13 isobutylamides, and only a few of them stimulate hunger. This means the effectiveness of the product you buy depends on which isobutylamides are in the extract.
If you find that lack of appetite hampers your ability to gain weight, or if you simply can't gain weight, it's time to consult a healthcare professional to rule out an underlying health condition that may be to blame. Your doctor may also recommend prescription-strength appetite stimulants.