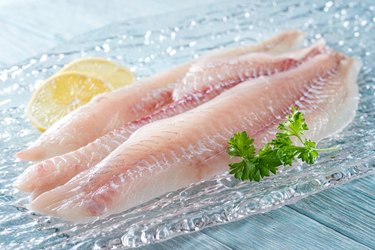 Grilled haddock is one of the most popular preparation methods for this fish. It's healthier for you than pan-fried haddock recipes and can be done in less than 20 minutes. Serve with steamed veggies and rice for a full meal.
What is Haddock?
The Marine Stewardship Council (MSC) says that haddock is a member of the cod family. It has a moist texture, firm flesh and mild flavor. It can be used interchangeably with cod, though it has a slightly sweeter taste, making it an ideal choice for smoking.
Any haddock that contains the blue MSC label is certified sustainable. U.S. wild-caught haddock is a good seafood choice because it is responsibly harvested and sustainably managed under U.S. regulations. As of the 2017 stock assessment, the National Oceanic and Atmospheric Administration (NOAA) maintains the haddock stock isn't overfished and is not subject to overfishing.
Haddock grow fast, ranging between 1 and 3 feet long at full maturity. Though they can live 10 years or more, fisheries generally catch fish that are between 3 and 7 years old.
According to the USDA, a 3-ounce serving of haddock contains 63 calories, less than half a gram of fat and 14 grams of protein. As a lean source of protein, the haddock is worth making part of your regular diet because of its health benefits. Keep in mind, oil in your recipe will add fat.
Grilled Haddock Made Easy
To make your grilled haddock, start by rinsing the haddock filets under a stream of lightly running water. If the pressure is too high, it can cause the fish to break. Carefully pat them dry with paper towels.
Pour a bit of olive oil into a shallow dish and add your desired spices and seasonings. Brush both sides of the haddock fillets with the seasoned oil. This helps prevent the fish from breaking as you season it.
Coat the inside of your grilling container with non-stick spray or a bit of olive oil. This will prevent the haddock from sticking during the grilling process. Heat the grilling container over medium-high heat.
Place the seasoned haddock fillets in the grilling container and grill for five to seven minutes per side. According to the Department of Health and Human Services, the fish is cooked when the flesh is white and opaque and flakes easily with a fork. Serve with lemon.
Other Ways to Prepare Haddock
If you want to cook the fish without oil, you can steam it as an alternative to pan-fried haddock recipes. Season as desired. Place in the steamer and cover. Steam for six to seven minutes, depending on the thickness of the fillets.
You can bake it or broil it, too. If you bake it, you can lightly bread it with breadcrumbs and seasonings of your choice. Preheat the oven to 500 degrees Fahrenheit and bake for 15 minutes, or until the fish flakes easily with a fork.
To broil the fish, move the oven rack to 6 inches below the broiler. Line a baking sheet with aluminum foil and spray with non-stick spray. Arrange the haddock fillets on the sheet and season accordingly. Broil in the preheated oven until the fish is cooked, about six to eight minutes.
You can also prepare pan-fried haddock recipes without oil, but you'll want to use a bit of non-stick spray or butter to prevent the fish from sticking to the pan as it cooks.