Fish is one of those proteins that's most often cooked to order. But if you're short on time in the kitchen, slow cooker fish isn't out of the question. In fact, because fish cooks quickly, you can have a meal on the table in just a few hours with your slow cooker.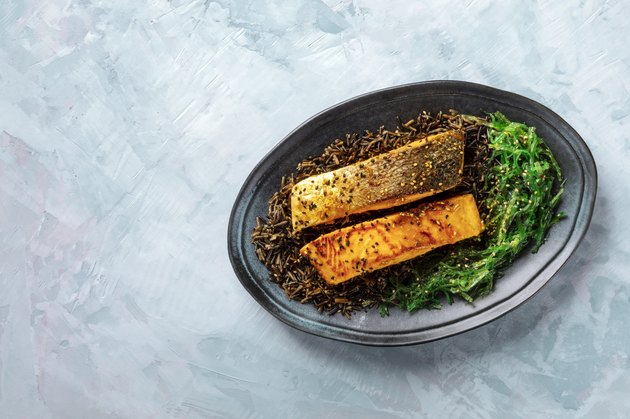 Fish: It's for Your Health
According to the Harvard T.H. Chan School of Public Health, half of Americans report that they only eat fish on occasion. Many people cite fear of toxins (mercury, pesticides) as their reason for not including fish in their diet. However, the benefits of fish far outweigh these health concerns.
Fish is high in protein, low in saturated fat and an excellent source of vitamin D, selenium and omega-3 fatty acids. The American Heart Association recommends you include two servings of fish (3.5 ounces per serving) in your diet every week for heart health. In addition to protecting your heart, eating fish regularly may reduce your risk of depression and Alzheimer's disease, report the nutrition experts at Harvard.
If you still have concerns about toxins, don't eat any of the fish high on the food chain, which includes shark, swordfish, king mackerel and tilefish. Instead, eat fish with less mercury and toxins, such as salmon, tilapia or haddock.
Slow Cooker Fish Tips
From fillets to soups and stews, there are many ways to prepare slow cooker fish. However, you do need to have a game plan before you get started so that you don't overcook your fish. Unlike other proteins, such as chicken or beef, fish cooks very quickly and may only need to be in your slow cooker for 30 minutes. However, cooking time may vary depending on your recipe.
You also want to make sure your fish is fresh so you get the best flavor and reduce any risk of foodborne illness. The Food and Drug Administration recommends you only buy fish that's refrigerated or displayed on a thick bed of ice. Your fish should also smell fresh, with only a mild aroma. If your fish smells too fishy, don't buy it.
Place your fish in the refrigerator soon after purchasing it, and be ready to use it within two days. If you're not ready for slow cooker fish, wrap your fresh fish tightly in an air-tight freezer-safe bag and place in your freezer.
Slow Cooker Salmon
Salmon is an excellent source of omega-3 fatty acids and makes a healthy addition to your diet. The flavorful and hearty fish also makes a delicious slow cooker fish fillet. However, salmon is delicate when cooked, so before you begin setting up your slow cooker for your slow cooker salmon, line the bottom with aluminum foil or parchment paper so you can easily lift the fish out of the pot. Or you can use your slow cooker liner.
Once you've lined your slow cooker, place your salmon fillets in the pot, top with your liquid, such as vegetable broth or miso. Beer and wine can also be used.
If you prefer, you can create a tasty liquid to add more flavor to your slow cooker salmon. In a bowl, combine honey, lime juice, low-sodium soy sauce, minced fresh garlic and minced fresh ginger and pour over your salmon. Cook on high for one hour, or until your fish is cooked through.
Slow Cooker Cod Curry
If you're in the mood for a fish-style stew, cod makes a good fish choice to use in your slow cooker fish recipe. For your slow cooker cod curry, you need to cook your sauce first before adding your fish.
To create your sauce, use a blender or food processor to combine unsweetened coconut, coriander, fenugreek, turmeric, mild curry, fresh garlic, cumin, ginger, salt and your favorite hot pepper, such as serrano (without seeds) and make a paste. In a saucepan, combine two cans of unsweetened coconut with your spice paste and bring to a boil.
After your sauce has come to a boil, transfer it to your preheated slow cooker, cover and cook on high for two hours or low for four hours, or until your sauce is thickened. Season your cod with salt and pepper, add to your curry sauce and cook for another 20 minutes, or until the fish is cooked through.