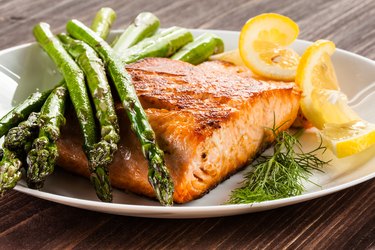 Fish is one of those proteins that's most often cooked to order. But if you're short on time in the kitchen, slow cooker fish isn't out of the question. In fact, since fish cooks pretty quickly, you can have a meal on the table in just a few hours with your slow cooker's help.
According to the Harvard T.H. Chan School of Public Health, half of Americans report that they only eat fish on occasion. Many people cite fear of toxins (mercury, pesticides) as their reason for not including fish in their diet. However, the benefits of fish far outweigh these health concerns.
Fish is high in protein, low in saturated fat and an excellent source of vitamin D, selenium and omega-3 fatty acids. The American Heart Association recommends you include two servings of fish (3.5 ounces each) in your diet every week for good heart health. In addition to protecting your heart, eating fish regularly may reduce your risk of depression and Alzheimer's disease, per the nutrition experts at Harvard.
If you still have concerns about toxins, don't eat any of the fish high on the food chain, which includes shark, swordfish, king mackerel and tilefish. Instead, eat fish with less mercury and toxins, such as salmon, tilapia or haddock, per the National Resources Defense Council.
Tips for Your Best Slow Cooker Fish
From fillets to soups and stews, there are many ways to prepare slow cooker fish. However, you do need to have a game plan before you get started so that you don't overcook your fish.
Don't let it cook for too long. Unlike other proteins, such as chicken or beef, fish cooks very quickly and may only need to be in your slow cooker for 30 minutes. However, cooking time may vary depending on your recipe.
Make sure it's fresh. You also want to make sure your fish is fresh so you get the best flavor and reduce any risk of foodborne illness. The Food and Drug Administration recommends you only buy fish that's refrigerated or displayed on a thick bed of ice. Your fish should also smell fresh, with only a mild aroma. If your fish smells too fishy, don't buy it.
Don't let it sit out. Place your fish in the refrigerator soon after purchasing it, and be ready to use it within two days. If you're not ready for slow cooker fish, wrap your fresh fish tightly in an air-tight freezer-safe bag and place in your freezer.
How to Make Slow Cooker Salmon
Salmon is an excellent source of omega-3 fatty acids and makes a healthy addition to your diet. The flavorful and hearty fish also makes a delicious slow cooker fish fillet. Try this recipe for the perfect slow-cooked salmon from Rebekah Strand, development chef at Conagra.
1 cup broth or white wine
1 piece of salmon
2 tablespoons spicy brown mustard
1/2 cup heavy cream
Line the slow cooker: Salmon is delicate, so you'll want to line the bottom of your slow cooker with parchment paper or foil. Then, pour a cup of broth or white wine into the machine.
Season salmon: Place your salmon on the parchment paper, skin down. Top the fish with sliced lemon wheels and spray lightly with extra virgin olive oil cooking spray and season with salt and pepper.
Slow-cook the fish: Cook on low for two hours or until the fish flakes easily and is opaque in color all the way through.
Broil the salmon (optional): Set your oven to broil and place the slow-cooked salmon on a cookie sheet. Broil for about five minutes or until it's lightly browned.
Prepare sauce: While your salmon is cooking, prepare a mustard-cream sauce. Combine half a cup of the liquid from the slow cooker with half a cup of heavy cream and two tablespoons of spicy brown mustard in a saucepan. Simmer the sauce for five to eight minutes, or until it's slightly thickened.
Serve your salmon: Serve the salmon topped with mustard-cream sauce, chopped parsley and additional lemon wedges, as you like.
How to Make Slow Cooker Tilapia and Cod
If you're in the mood for a white fish, both tilapia and cod make for a good choice to use in your slow cooker. A great way to prep your fish is with zesty tomato relish, Strand recommends. Follow these steps for a great slow-cooked fillet.
1 can of diced tomatoes (fire-roasted, if available)
1/2 cup of broth or white wine
2 pounds of cod
Salt and pepper
Add the sauce: Combine a can of diced tomatoes with a half cup of broth or white wine.
Season your fish: Place two pounds of fish on top of the sauce, spraying it lightly with extra virgin olive oil cooking spray and season it with salt and pepper.
Slow cook the cod: Slow-cook the fish and sauce on low for two hours or until the fish is cooked through.
How to Make Slow Cooker Fish Stew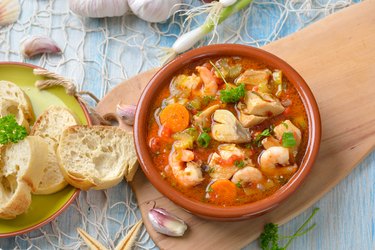 Cod or tilapia are also great fish to add to a slow-cooker seafood stew. Try Strand's go-to hearty fish stew if you want the perfect comfort meal.
1 can of crushed tomatoes
4 cups of seafood stock
1 pound diced potatoes
1/2 cup diced onion
1/2 cup diced celery
1 tablespoon Herbs de Provence, crushed red pepper flakes, salt and pepper
1 pound diced cod/tilapia
1 pound shrimp
Cook additional ingredients: Combine one can of crushed tomatoes, four cups of seafood stock, one pound of diced potatoes, a half cup of diced onion, a half cup of diced celery, one tablespoon of Herbs de Provence, a pinch of crushed red pepper flakes and some salt and pepper in your slow cooker. Cook on high for two hours (or on low for five hours) or until the potatoes are fork-tender.
Add fish: Add one pound of diced cod or tilapia (or half a pound of each) and one pound of shrimp to the slow cooker. Cook the stew for an additional hour on high.