For some, seafood is a luxurious meal to be savored and enjoyed. For others, fish are to be avoided at all costs. The former are able to reap the health benefits that fish offer, while the latter needs a little help. Luckily, there are fish oil supplements that offer the omega fatty acids found in fatty fish. These omega fatty acids are good for your heart, brain, immune system and can benefit your health in a variety of ways.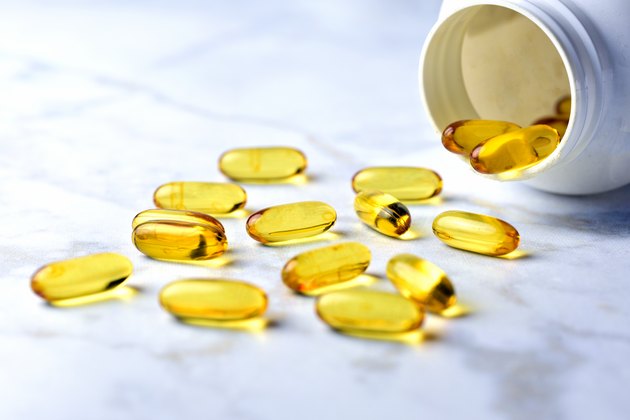 What Is Fish Oil?
The American Heart Association recommends consuming at least two 3.5-ounce servings of fish each week. However, if that doesn't seem reasonable to you, supplementing your diet with fish oil is an alternative way to obtain omega-3 fatty acids.
The National Academy of Medicine sets the daily adequate intake (AI) of omega-3 fatty acids as 1.6 grams for adult men and 1.1 grams for adult women, while standard supplements typically contain around 1 gram of fish oil, with 120 milligram of EPA and 120 milligrams of DHA, the two types of omega-3 fatty acids.
Fish oil supplements could help reduce the risk of certain diseases or health conditions, including relief from symptoms of rheumatoid arthritis or decreased levels of triglycerides. Other diseases that fish oil supplements purportedly help with, including heart disease, age-related macular degeneration and Alzheimer's disease or cognitive impairment, don't have enough research to back up the claims.
The Need for Omega-3s
Fish oil pills are an easy way to supplement your diet with omega-3 fatty acids. A number of Americans that eat a standard western diet consume more omega-6 fatty acids than omega-3s, and having the wrong balance of omega fatty acids in your body can increase your risk of certain health problems. The wrong ratio of omega fatty acids in your diet can affect the function of your immune system and increase your chances of developing diseases like cancer and heart disease.
The main types of omega fatty acids are omega-3, omega-6 and omega-9. Omega-3 fatty acids are the most well-known, but omega-6 and omega-9 are important in the right ratios, too.
Omega-3 fatty acids: Omega-3 fatty acids are essential, polyunsaturated fatty acids. There are three main types of Omega-3 fatty acids: α-linolenic acid (ALA), docosahexaenoic acid (DHA) and eicosapentaenoic acid (EPA). You can obtain DHA and EPA from foods like fatty fish and seaweed, but it's possible to obtain other omega-3 fatty acids, like alpha-linolenic acid (ALA), from fruits and vegetables. The Dietary Guidelines for Americans recommend a total of 1.1 to 1.6 grams of omega-3s each day.
Omega-6 fatty acids: Omega-6 is an essential polyunsaturated fatty acid that comes from foods such as nuts, seeds and refined vegetable oils. Omega-6 fatty acids are important, particularly for your immune system and metabolism, but too much isn't a good thing—a specific ratio of omega-6 to omega-3 is necessary for good health.
Omega-9 fatty acids: Omega-9 is a non-essential, monounsaturated fatty acid found in high amounts in nuts, seeds and vegetable oils. Humans are able to produce them, meaning that supplementing them is usually thought to be unnecessary. Even though omega-9 is considered non-essential, it's linked to reduced inflammation, improved insulin sensitivity and lower cholesterol.
Omega-3 fatty acids are the type of fatty acids you're most likely looking for in your fish oil supplements as their consumption has been associated with a variety of health benefits. DHA and EPA are only thought to be clinically useful in fairly high amounts, so most people taking fish oil supplements are looking to increase their levels of these particular fatty acids. Foods containing ALA can be processed into DHA and EPA—but only very small amounts are converted.
Recommended Fish Oil Dosage
Fish Oil in Your Diet
Ultimately, your body will be happiest if you eat a healthy, balanced diet. You should not rely on fish oil pills; instead, obtain your nutrients from a combination of foods and supplements. Given the ODS recommendation of consuming no more than 3 grams of combined EPA and DHA per day, with only 2 grams of omega-3 fatty acids coming from supplements, your diet should include foods rich in omega fatty acids, regardless of whether or not you're taking fish oil pills.
To increase the levels of omega-3 fatty acids in your diet, eat healthy marine products like fatty fish and fortified food products, like milk and eggs. Many foods contain ALA, which will be partially converted into DHA and EPA. The Dietary Guidelines for Americans currently state that a daily total of 1.1 to 1.6 grams of ALA are sufficient for good health. Use the USDA National Nutrient Database to identify foods rich in specific omega-3 fatty acids, like ALA, DHA and EPA.