Would you believe that some of the leading chronic health conditions that plague Americans have one thing in common? Inflammation is one of the factors that link heart disease, diabetes, arthritis, cancer, and neurodegenerative diseases like Alzheimer's and Parkinson's Disease, according to January 2018 research in Oncotarget.
Acute, or short term inflammation, is a completely normal process that occurs in your body. However, when the inflammation is low and slow, aka low-grade inflammation, that's when the damage starts to happen. Chronic inflammation can wreak havoc on your body.
The good news is that researchers have identified foods that can nip inflammation in the bud — namely, plant foods rich in flavonoids — an October 2015 study in the British Journal of Nutrition reports. Ready to include these foods in your diet? Try our anti-inflammatory recipes below. All you need are a few simple ingredients and just 10 minutes or less to whip them up!
1. Caprese Snack Skewers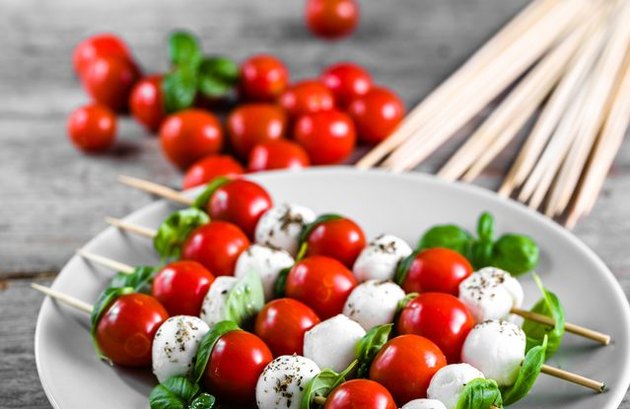 Hopefully, tomatoes are always on your grocery list because they pack some serious nutrition. Tomatoes contain vitamin C, and multiple studies show that higher vitamin C levels were associated with lower levels of CRP, which are inflammation markers in the body, according to the Linus Pauling Institute at Oregon State University.
Tomatoes are also rich in a carotenoid called lycopene. Lycopene is a phytochemical that has been associated with reducing CRP levels. You can find lycopene in red grapefruit and watermelon, and even more lycopene in cooked tomatoes rather than fresh!
2. Smoked Salmon Avocado Toast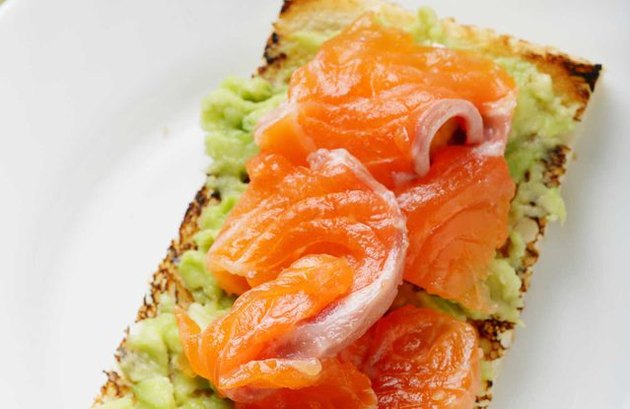 Omega-3 fatty acids are highly praised, and for good reason. Omega-3s, which are found in salmon, tuna, walnuts, chia seeds, flax seeds and canola oil, may help to reduce overall inflammation in the body, according to the Mayo Clinic.
This recipe gives you a double whammy of inflammation fighters. While the smoked salmon contains omega-3s, the avocado is a source of monounsaturated fat, which may ease inflammation, according to the Harvard T.H. Chan School of Public Health.
3. Turmeric Latte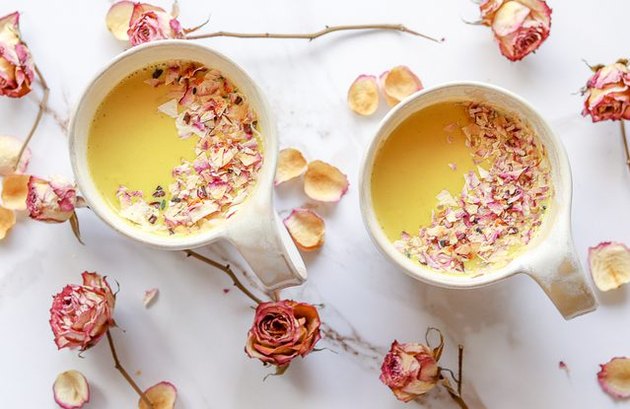 We can't blame you for buying a jar of turmeric after hearing about all of its benefits, only to find it sitting in your spice rack unused. If you're wondering what to do with it and you love a good latte, try adding it to your cup of joe to make a golden latte. This tasty latte combines frothy almond milk with sweet rose water and slightly spicy turmeric.
The main compound in turmeric is called curcumin, which has been shown to boast anti-inflammatory effects, an October 2017 review published in Foods tells us.
4. Red, White and Blue Parfait
This refreshing parfait combines protein-packed cottage cheese with crunchy almonds and berries. Berries are rich in a type of flavonoid called anthocyanin, which is what gives them their deep color. Plus, anthocyanins have anti-inflammatory properties that show even greater benefits when combined, according to an October 2017 study published in Nutrients, like in this three-berry parfait.
You can also find anthocyanins in strawberries, red cabbage, red wine, purple grapes, red cherries and eggplant among many other brightly colored fruits and vegetables. So feel free to switch out the fruits in this parfait with other anthocyanin-rich flavors. And more good news: You'll still get the benefit from frozen and freeze-dried berries, too.
5. Kimchi Salsa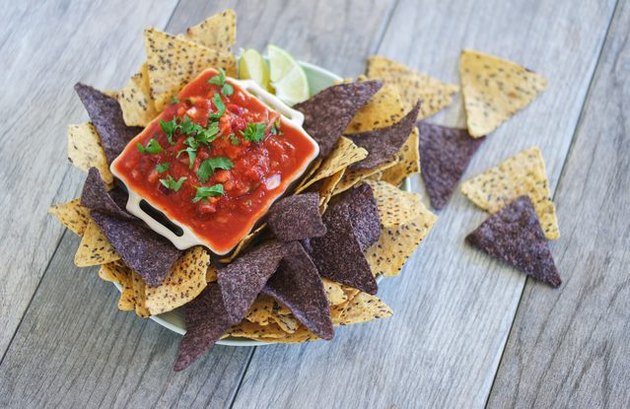 Kimchi shouldn't just be reserved for your once-in-a-blue-moon Korean BBQ dinner — it's a healthful addition to your daily diet, too. Fermented foods like kimchi are great for your gut microbiome and offer promising results for preventing the development of inflammation, according to March 2018 research published in Cancers.
Switch up your regular jarred salsa for this homemade version made with flavorful kimchi and lycopene-rich tomatoes. And pair it with some whole-grain tortilla chips for a healthy, crowd-pleasing snack.
6. Middle Eastern Savory Yogurt Jar