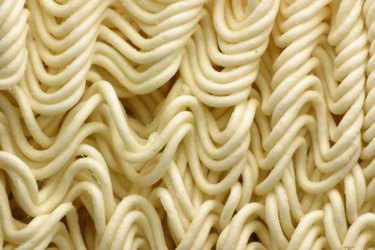 A popular college student cuisine, Ramen noodles are easy to make and inexpensive to buy. Traditionally cooked in a pot of boiling water and combined with the enclosed high-sodium seasoning packet, you eat the noodles as a soup or drain them and enjoy as a pasta dish. To add a bit of protein to your noodles, consider adding some peanut butter to the mix. Although it might seem like an odd combination, there are several easy and tasty ways to combine Ramen noodles with smooth and creamy peanut butter
Noodles With Peanut Sauce
Transform your traditional Ramen noodles into a Thai-inspired dish by pairing the noodles with a spicy peanut sauce. Although you can make the peanut sauce according to your own preferences, most recipes call for soy sauce, creamy peanut butter, garlic and chili powder or red pepper flakes. Once your noodles are cooked and the sauce ingredients are blended together, simply smother the noodles in sauce and mix thoroughly. Feel free to add diced chicken or beef, onions, carrots, cucumbers, scallions or any type of vegetables. The dish can be served hot or cold, depending on your preferences.
Grilled Ramen with Peanut Dipping Sauce
Before grilling Ramen noodles, you'll want to marinade the block of noodles first. If you want to incorporate peanut butter into the dish, opt for an Asian-inspired sauce, such as teriyaki or Szechuan sauce. Use equal parts water and sauce to marinade the noodle block; it's ready for the grill once it becomes tender. However, avoid leaving it in the marinade for too long or it will fall apart. Grill over medium heat for about three minutes on each side. It's done once it becomes crunchy and turns golden brown in color. Serve with a peanut dipping sauce on the side. Food Network chef Ellie Krieger recommends a dipping sauce made from creamy peanut butter, chicken broth, soy sauce, brown sugar, ginger, garlic and chili flakes.
Crunchy Peanut Ramen Snacks
If you're looking for a quick and easy snack to provide energy and satisfy your sweet tooth, consider making crunchy peanut butter ramen snacks. For this snack, you'll need a block of uncooked Ramen noodles. You will want to crush the noodles into very small pieces using either a rolling pin or meat tenderizer. Once the noodles have been crushed, mix in some peanut butter and honey. If the mixture is really sticky, add in a bit of powdered milk to help it firm up. Feel free to add any additional ingredients, such as chocolate chips, raisins, chopped almonds or dried cherries. Once all the ingredients are mixed together, roll into small balls and refrigerate for 30 to 60 minutes to allow the balls to harden.
Ramen Dessert Pizzas
Your uncooked ramen noodles can also be used for a sweet dessert pizza. For this idea, you'll want to just break the noodle brick into smaller, thinner pieces if possible. Although not necessary, that simple step will make the dessert pizza much easier to eat. The uncooked noodles will serve as the crust for your dessert pizza. Spread peanut butter over the top of each ramen noodle crust. Then, top it with bananas and melted dark chocolate for a delicious – and healthy – treat. To make the dessert pizza a bit more delectable, caramelize the bananas with honey and brown sugar in a skillet over medium heat.