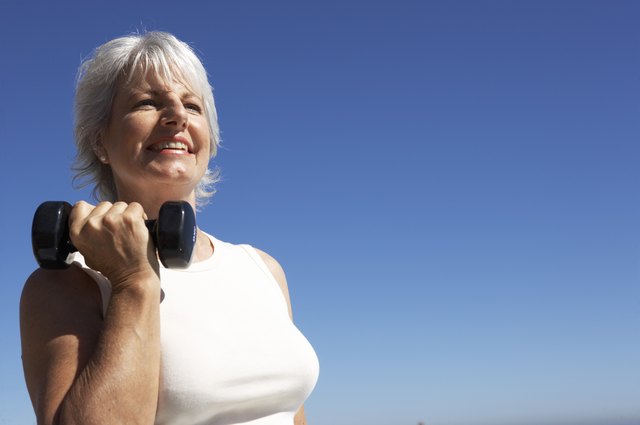 Every movement your body makes involves muscle contraction and the list of exercises available is endless. If your goal is to improve performance, understanding the types of muscular contractions, and which exercises utilize those contractions, will improve your muscular strength and performance.
Isotonic Exercise
Isotonic contraction is the force generated by a muscle while contracting, when the muscle lengthens and shortens during movement, with the force remaining constant. Therefore, when picking up a glass to take a drink your muscles would use the same force throughout the movement up and down, which is nearly impossible. During normal muscle contraction the force varies throughout the movement. A more accurate term is dynamic contraction, meaning the muscle tension varies as it moves the glass. Common exercises demonstrating this type of contraction are dumbbell curls, squats, lunges and walking. These forms of exercises help to isolate certain muscle groups, as in the case of dumbbell curls during which the primary muscle worked is the bicep.
Isometric Exercise
If you push against something that is immovable you are experiencing isometric contractions. This may also be called static tension. Isometric exercise involves muscle contraction without the muscle or joints moving. Examples of isometric exercise would be pushing against a wall or doing a push-up and stopping in the 'up' position. Isometric exercises do not significantly build strength but they can maintain strength, which is why they are sometimes used in a rehabilitative setting. For example, if someone suffers from arthritis and it is painful to perform range of motion exercises, isometric exercises may help maintain strength in the joint muscles without causing more pain.
Isokinetic Exercise
Isokinetic exercises are also used in therapeutic settings. Using a dynamometer to control the contraction, isokinetic exercise helps build strength in stroke victims or people who have limited used of their muscles. An isokinetic contraction is a dynamic contraction but the speed of the entire movement is controlled by the machine. This control prevents injury and also measures areas of strength and weakness in muscles. Any exercise involving the contraction of muscles can be isokinetic if the dynamometer is being used.
Expert Opinion
If you have a heart condition, you may want to talk with your doctor before performing isometric exercises. A 1984 study in the "Scandinavian Journal of Work, Environment & Health" found that heart rate and blood pressure increased significantly with isometric exercise. Because of this, isometric exercises are not recommended for people with heart problems or high blood pressure.