Toned, shapely thighs and buttocks not only fill out a pair of jeans, they'll help you run faster, jump higher and generally be more physically fit. No single food offers the magic bullet for healthy weight gain, though. Your best approach is a healthy diet that provides enough calories for you to gain weight, paired with an exercise routine to build your lower-body muscles. There are also some foods that can make it easier to get the healthy calories and protein you need to gain weight.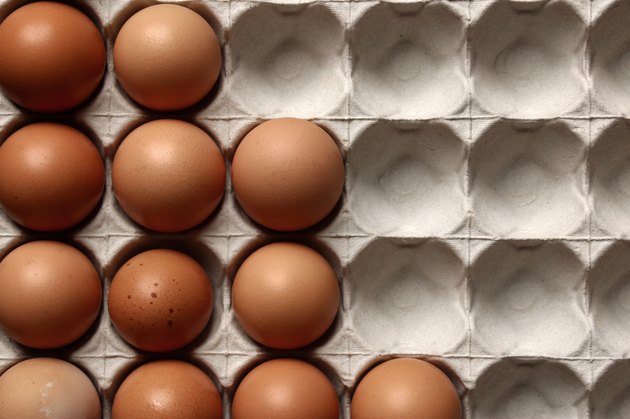 Weight Gain and Calories
Just like you can't choose where you'll lose fat when you lose weight, you can't exclusively gain weight in your thighs and buttocks. However, you can follow a weight gain diet to put on weight all over your body, and pair it with an exercise routine that will help you put muscle on your lower body to make your thighs and buttocks appear larger. To start, you should consult a registered dietitian or use an online calculator to figure out how many calories you need to maintain your current weight -- it's different for everyone, and varies depending on your age, gender and activity level. Add 250 to 500 calories to that daily amount -- these extra calories will allow you to gain 0.5 to 1 pound a week, which is a safe rate of weight gain, according to the McKinley Health Center. You'll want to fill your diet with nourishing foods so you can meet your calorie goals and consume the nutrients you need to function and maintain an active lifestyle.
Protein Foods for Bulking Up
When you're trying to grow your thighs and buttocks, include plenty of high-quality protein in your diet. Protein supplies amino acids, which help build extra muscle tissue in your lower body while you bulk up. People following a strength training diet need between 0.6 and 0.8 grams of protein daily for each pound of body weight -- that translates to 81 to 108 grams of protein for a 135-pound person, or 108 to 144 grams for a 180-pound person. Many people already eat this much protein, so you may or may not need to make adjustments.
There are lots of ways to get enough by adding protein-rich foods to your favorite meals. Drop an egg into your soup as it cooks, or include a sliced large egg in your salad to add 72 calories and 6 grams of protein. Add a container of Greek yogurt to your smoothie or to a bowl of oatmeal to add 159 calories and 12 grams of protein. Skinless white-meat poultry, lean beef, fatty fish, tofu, lentils and beans also help you get more muscle-building protein.
Healthy Fat for Weight Gain
Fat has the most caloric bang for your buck -- it has 9 calories per gram, which is more than double the 4 calories found in a gram of protein or carbs. So adding healthy fats to your meal is an easy way to boost your calorie intake to reach your daily goal. Add a tablespoon of olive oil -- which has 124 calories -- to salad dressing or use it as a topping for roasted vegetables. Snack on a few handfuls of nuts -- a 2-ounce serving of almonds, for example, has 324 calories. Or add nut butters to your smoothies, cereal or toast -- a 2-tablespoon serving of peanut butter contains 188 calories. You can also stir peanut butter into vegetable stews for a creamy texture and unique flavor, or make North African groundnut stew, which features peanut butter, for a comforting and calorie-rich meal.
Other Weight-Gain Foods
You'll want to fill out the rest of your diet with nutritious foods to promote healthy weight gain. In addition to vegetables, include whole grains -- like quinoa, amaranth, brown rice, or whole-grain bread or pasta -- as a source of quality carbohydrates. Carbs serve as a primary source of energy for your muscles and brain, so they help keep you active as well as boost your calorie intake. And include fruits and vegetables in your meal plan as rich sources of vitamins and minerals.
Work Out Your Thighs and Buttocks
You can't selectively grow your thighs and buttocks through diet alone, but a strength training workout plan that targets these areas can increase the size of your lower body muscles, so your thighs and butt will appear larger. Perform lower body exercises, like lunges, deadlifts and squats, using barbels, dumbbells or other resistance to strengthen and grow your thighs and butt. Maintain a balanced frame by working your abdominals and upper body as well -- exercises like planks, rows and push-ups strengthen your abs, back and arms so you'll look stronger and fitter. Pair your strength training with short cardio workouts -- two to three 20- to 30-minute workouts weekly, recommends the McKinley Health Center. For best results, consult a personal trainer who can develop a program based on your current fitness level and physique to help you reach your fitness goals and help tailor your workouts to your thighs and buttocks.