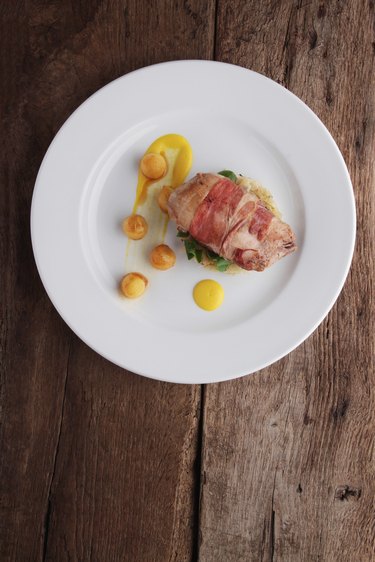 Pheasant breasts are light in color with a flavor similar to chicken, though the meat is richer and may have a slight gamy taste if the breast comes from a wild bird as opposed to farm-raised. A variety of methods can be used when cooking pheasant breast, according to North Dakota State University.
You can use pheasant breast in a variety of dishes, or simply serve it as a main course along with stuffing, vegetables, rice or nearly any side dish you choose. Pheasant breast recipes can be made on the stove top, on the grill or even in a slow cooker. Or, try skinless pheasant recipes in the oven.
Cooking Pheasant Breast
Step 1: Brine Your Pheasant
Place the pheasant breast in a mixture of water and kosher salt and brine in a covered bowl in the refrigerator for at least two hours prior to cooking.
Replace some of the water with apple cider during the brining process to give the meat a slightly sweeter flavor. Brining helps the meat retain its juices during the cooking process.
Step 2: Remove and Rinse
Remove the breast from the brining mixture and rinse it under cool running water to remove any salt clinging to the outside of the meat.
Step 3: Add Some Seasonings
Rub the breast with seasonings of your choice or baste the meat with butter or chicken broth to enhance the flavor. Avoid adding extra salt since the meat retains some salt during the brining process.
Step 4: Cook Your Meat
Cover the bottom of a roasting pan with water or other cooking liquid and roast the breast, covered, at 250 to 325 degrees Fahrenheit. Alternatively, grill or cook the meat in a frying pan, searing each side until the juices run slightly pink.
You can also place the breast in a slow cooker with water, broth or cream soups and vegetables, cooking on low throughout the day for tender pheasant breast by dinnertime.
Step 5: Check the Temperature
Check the internal temperature of the breast by sticking a meat thermometer into the meat at the thickest point. Pheasant should have an internal temperature of at least 165 degrees Fahrenheit, according to Michigan State University Extension.
Step 6: Rest and Serve
Let the pheasant rest for several minutes before serving to allow the juices to settle into the meat before serving.
Refrigerate leftovers promptly at 40 degrees Fahrenheit or below. Discard any pheasant breast that has been at room temperature for more than two hours to reduce risk of harmful bacterial growth.
Consume your leftover pheasant within three to four days, or freeze at 0 degrees for three to four months, as advised by the USDA.
Things You'll Need
Bowl with lid

Measuring cups

Kosher salt

Spoon

Apple cider (optional)

Seasonings

Butter (optional)

Chicken broth (optional)

Basting brush (optional)

Roasting pan (optional)

Frying pan (optional)

Slow cooker (optional)

Meat thermometer
Tip
Try serving pheasant breast in place of poultry in your favorite recipes. Cut up strips of the breast and add them to soups, salads or casseroles. Pour a sauce over the breast. Pheasant pairs well with sweet sauces, such as chutney.