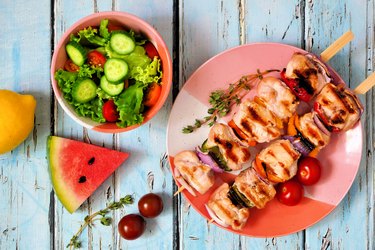 Onions are an easy and common addition to shish kabobs, and while there's no hard rule on cutting onions for kabobs, slicing them into bite-sized pieces ensures that they'll cook evenly and quickly —no matter which method of cooking you use.
You can add onions to steak, shrimp or chicken kebobs, but just make sure that whatever meat you choose, you're cooking it adequately and throughly to the proper internal temperatures.
Cutting Onions for Kebobs
Onions don't just add flavor to your kebobs. They have an extremely positive impact on your health. According to an August 2014 report in Critical Reviews in Food Science and Nutrition, onions contain phytonutrients with anti-cancer properties and that help regulate blood clotting.
To cut onions for skewers, make sure your knife is sharp and carefully slice the onion in half lengthwise. Peel the skin off of each onion half and then place the onion on a cutting board with the cut sides facing down. Cut each half in half and then cut each quarter piece in half again to create four wedges.
Once the onion is cut into wedges, you can remove the bite-size pieces from the stack and slide them onto your skewer with the rest of your kebob ingredients.
The National Onion Association also provides some helpful tips for reduce tearing when cutting onions. Place the onion in the refrigerator to chill for about 30 minutes. Once the onion is chilled, remove the skin and cut out the root (where most of the compounds that make you cry are found) before cutting the rest of the onion.
Cutting Peppers for Kebobs
In addition to onions, you can also add a variety of other vegetables to your shish kabobs. Some good choices are red or green bell peppers, cherry tomatoes and button mushrooms. While you can add the cherry tomatoes and button mushrooms to the kebobs whole (this will ensure that they cook at a similar rate as the onions), it's best to cut the peppers into bite-sized pieces.
To do so, cut the top off of the pepper and remove and discard the seeds. Cut the peppers in half lengthwise and then cut each piece in half again to create quarter pieces. From there, cut each quarter piece into smaller, bite-size pieces that are close in size to your onion pieces.
Choosing a Meat or Fish
Once you've got your vegetables chopped, you can add meat or fish to your kabobs, if you want. Cubed chicken and beef are popular options that go well with both onions and peppers. Shrimp and scallops are some other good choices. But no matter which protein source you choose, you have to make sure you're cooking it properly.
If you choose beef for your kabobs, cook it until it reaches an internal temperature of 145 degrees Fahrenheit. If you opt for chicken instead, you'll have to cook it until the meat comes to a temperature of 165 F, per the FoodSafety.gov.
While there's no hard rule for the temperature of shrimp and scallops when you're making a recipe like our Simple Grilled Shrimp Kabobs, watch it closely and make sure to cook it until the flesh becomes pearly or white and opaque. You can also make this LIVESTRONG.com recipe for Portobello Mushroom Veggie Kebabs and forgo the meat altogether.