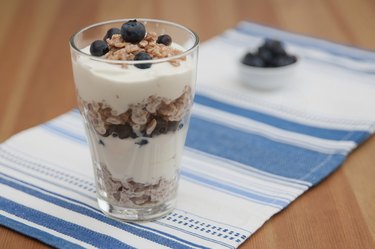 Yogurt is a tasty, healthy snack or breakfast food, but it can be rather boring and bland, especially if it's plain or vanilla. The trick to making yogurt tastier and more substantial without losing the health benefits is to mix in foods that add flavor and texture. There are many delicious additions that will bring your yogurt to life.
Fruit
Adding fruit is a healthy way to make your yogurt tastier without adding many calories. Cut up canned or fresh peaches, whole strawberries or bananas. Stir in blueberries, pineapple chunks, grapes or cherries. You can also use dried fruits, such as cranberries and raisins, or use frozen fruit to add a refreshing texture.
Granola
If you want your yogurt to have real texture and crunch, then granola is a must-add. Granola is healthy and tasty on it's own, but really comes to life when mixed with yogurt. The added bit of sweetness just tops it off, especially if you're looking to satisfy a sweet craving. However, granola contains fat so you'll want to be aware of that if you're counting calories.
Cereal
As odd as it might sound at first, Rice Krispies or Cheerios are a delicious addition to yogurt. The texture of the cereal mixes nicely with the creaminess of the yogurt and adds a different flavor, plus you get a more substantial snack. This is especially helpful when eaten for breakfast or before or after your workout.
Other Additions
There are a numerous other additions out there, including artificial sweetener, vanilla extract, almond extract and lime juice; a combination of walnuts, maple syrup and cinnamon; and peanut butter, toasted nuts or seeds, graham crackers and jam. Or, you can create your own combinations and recipes for yogurt flavors that suit you best.