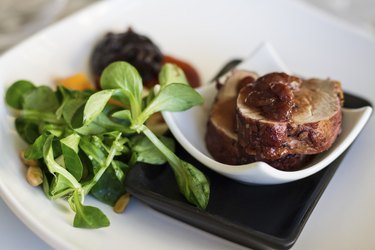 Classic flavor pairings for pork tenderloin include Chef Bobby Flay's Greek tenderloin marinated in garlic, lemon and oregano and Chef Emeril Lagasse's German pork tenderloin with red cabbage. Often called pork medallions, pork tenderloin slices cook quickly and lend themselves to a variety of sauces, and marinades. Try a mustard cream sauce or an apple port sauce to add an elegant touch, or serve with chile peppers, lime juice and maple for a more casual dish. Serve the slices as dinner entrees on their own or use them in pork subs and sandwiches.
Step 1
Marinate the whole pork tenderloin in a glass bowl to add flavor to the meat. Start the marinade at least two hours before cooking or overnight. Use your favorite salad dressing as a marinade, or a fruit-based marinade with blackberries or strawberries, or a marinade you make with wine vinegar, garlic and ketchup.
Step 2
Pat the tenderloin dry with paper towels, and cut it into slices 3/4 to 1-inch thick. Wash your hands, the knife and the cutting board thoroughly with soap and hot water before using the utensils on any other food.
Step 3
Sprinkle salt and pepper on the front and back of each slice. Press on chopped herbs such as rosemary or sage for additional flavor.
Step 1
Heat 1 to 2 tbsp. of oil in a pan over medium high heat, preferably olive oil for its flavorful and healthful benefits.
Step 2
Cook the slices for two to four minutes on each side. Your slices may appear a little pink, but they will be safe if the internal temperature reaches 160 degrees F, according to the U.S. Department of Agriculture.
Step 3
Remove the slices from the heat. Serve immediately, or place the pork on an oven-proof plate and keep it warm in a 170-degree oven while you prepare a sauce.
Step 4
Stir liquid sauce ingredients into the same pan. Use wine, stock, cider or water to dislodge any bits of pork from the bottom of the pan. Let the liquid cook down until it thickens slightly and use immediately, or add vegetables or fruit.
Step 1
Place flour seasoned with salt and pepper on a large plate. Add a pinch of additional flavor, such as cayenne pepper and allspice or cinnamon.
Step 2
Heat 3 to 4 tbsp. of oil over medium heat in a large skillet. If your skillet is not large enough, your slices will steam instead of frying.
Step 3
Dredge each slice in the seasoned flour and place in the pan. If your pan is not large enough for all the slices, fry them in batches.
Step 4
Cook for two to four minutes on each side. Serve immediately.
Things You'll Need
1 pork tenderloin

Marinade recipe, optional

Glass dish or bowl, optional

Sharp knife

Cutting board

Paper towels

Salt and pepper

Herbs, optional

Large skillet

1 to 4 tbsp. oil

Fork or spatula

Liquid sauce ingredients, optional

Fruit or vegetable sauce ingredients, optional

Seasoned flour, optional
Tip
Classic sauce ingredients for pork include cooked mushrooms, sliced olives, herbs or heated fruit, such as apple slices, dried cherries or cranberries.
Warning
Registered dietician Karen Collins of the American Cancer Research Institute says that, although pork tenderloin is a lean meat, you still need to trim visible fat. She adds that eating even lean meat does put you at an increased risk for colon cancer.