Pork steak is a specialty in St. Louis, Missouri, where pork steaks are grilled and basted with barbecue sauce. Pork steaks may be sold as pork shoulder steaks or you may purchase a pork shoulder roast or Boston butt roast and carve it into individual steaks. This cut of pork is fatty, which adds to the flavor of the pork steaks but makes grilling them a little more difficult because the fat can drip into the flames and cause flare-ups.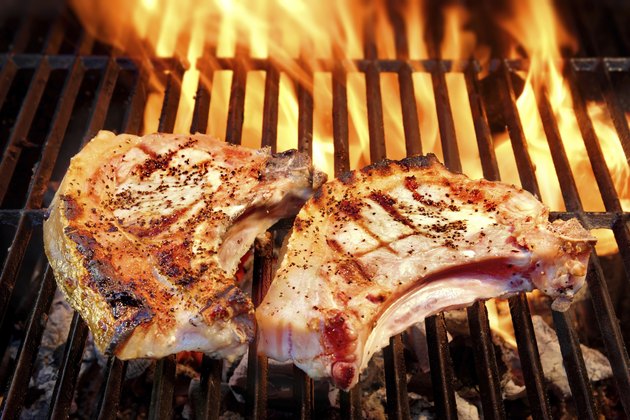 Step 1
Preheat the grill to high, or 450 degrees Fahrenheit.
Step 2
Trim any fat from the edges of the steaks. Leave the steaks out on a plate until they are room temperature, or about 70 degrees Fahrenheit. This will keep the pork steaks from becoming dry on the grill.
Step 3
Rub the pork steaks on both sides with salt and your dry rub or seasonings.
Step 4
Grill the steaks four to six minutes on each side. The pork steaks should be firm and the juices should run clear without a hint of blood.
Step 5
Baste your pork steaks with sauce, if you are using it. Turn the heat down to medium, or 350 degrees Fahrenheit, and cook the steaks for an additional 15 seconds on each side.
Step 6
Remove the steaks and let them rest for 10 minutes before you serve them.
Things You'll Need
4 pork steaks, each 8 to 10 ounces and about 1 inch thick

4 tbsp. seasoning of your choice, such as paprika, allspice, salt and/or pepper

Propane grill

Grill spatula
Warning
Cook pork to an internal temperature of 145 degrees Fahrenheit to prevent foodborne illness, advises the U.S. Department of Agriculture.