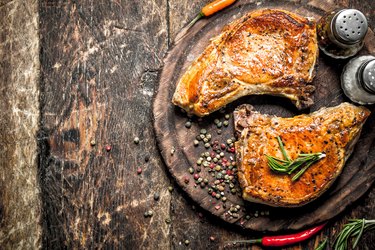 Thin pork chops are usually boneless and very lean, so they cook quickly. Many cooks prefer to pan sauté them or grill them briefly, but baked thin pork chops also make a tasty meal.
Oven baked is one of the best ways to cook thin pork chops while freeing up your stovetop to prepare other healthy foods at the same time.
Oven-Baked Thin Pork Chops
When baking thin pork chops in the oven, choose cuts that are at least 1/2 inch thick. Trim extra fat off your thin boneless pork chops. Bake on a center rack at 425 degrees Fahrenheit for 20 to 25 minutes — all ovens are calibrated differently, so keep an eye on them after 15 minutes of baking.
After removing your pork chops from the oven, let them rest for three minutes before serving. Some recipes will recommend that you brine your pork chops before baking — if your chops have been injected with a salt solution, there is no need to brine. The label on your pork chops will let you know.
Try a Spice Rub
Using a rub is a tasty and fast way to prepare your boneless thin pork chops in the oven. The University of Illinois Extension recommends a hot and spicy seasoning for your pork chops: In a small bowl, combine 1/4 cup paprika, 2 teaspoons chili powder, 2 tablespoons dried, crushed oregano, 1 teaspoon black pepper, 1 teaspoon garlic powder, 1/2 teaspoon cayenne pepper and 1/2 teaspoon dry mustard.
Coat your pork chops with your spice rub and bake on a parchment lined baking sheet for 20 to 25 minutes.
Use Breadcrumb Coating
A typical breadcrumb coating is a three-step process using flour, eggs and breadcrumbs. If you're buying thin sliced pork loin chops, then you may need a time-saver. Brush each chop with olive oil.
In a small bowl, combine 1/4 cup of seasoned breadcrumbs and 1/4 cup of finely grated Parmesan cheese. Coat each chop thoroughly in the breadcrumb mixture. Place thin sliced pork chops on a baking sheet lined with parchment paper. Bake for 20 to 25 minutes.
Top With Herbs
You may have a plethora of dried herbs in your pantry, but don't know how to use them. Dried herbs add a flavorful coating to thin pork chops. In a small bowl, combine 1/2 teaspoon dried oregano, 1/2 teaspoon dried parsley, 1/2 teaspoon dried thyme and 1/2 teaspoon kosher salt.
Place thin sliced pork chops on a parchment paper lined baking sheet and brush both sides with olive oil. Sprinkle the herb topping on both sides of each chop. Bake for 20 to 25 minutes.
Make a Sheet Pan Dinner
Sheet pan dinners allow you to cook an entire meal on one baking sheet, as described by PennState Extension. Line a baking sheet with parchment paper. Cut 1 pound of red potatoes into 1/2-inch pieces and place on baking sheet. Add 2 cups of frozen or fresh green beans next to the potatoes.
Drizzle vegetables with 2 tablespoons of olive oil and sprinkle with 1/4 teaspoon kosher salt and 1/4 teaspoon black pepper. Prepare thin sliced pork chops using one of the above methods and place pork chops next to the potatoes and green beans. Bake for 25 minutes and check the temperature of the pork to ensure it has reached a minimum temperature of 145 degrees Fahrenheit.