Eating late-night snacks is generally not the best idea, unless you're truly feeling hungry or want to gain weight. If a late-night snack is on your agenda, however, fat-free yogurt represents a good choice for healthy weight management because it's packed with essential nutrients, helps keep you feeling full for long periods of time and is generally lower in calories than low-fat or full-fat yogurt varieties.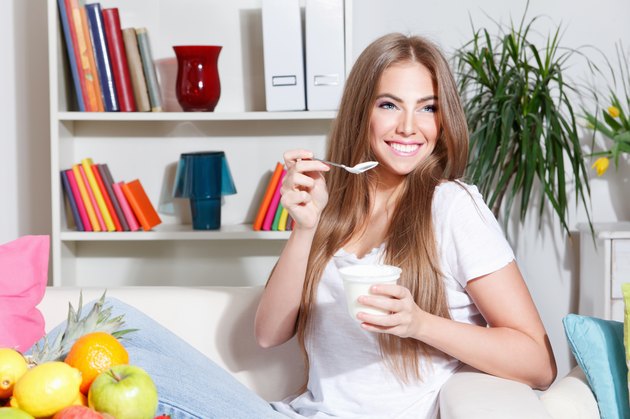 Yogurt Benefits
Yogurt is packed with dietary protein, calcium and healthy probiotics -- which aid in digestive health. Eating yogurt right before bed late at night can help you fall asleep if you're hungry and keep you feeling full until you wake up in the morning. The protein in yogurt increases satiety and even helps your body burn more calories, according to a 2009 study in "The Journal of Nutrition," which is beneficial for healthy weight management. Boosting your protein intake by eating protein-rich meals or snacks six times daily also helps reduce body fat, according to a 2013 study in "Obesity."
Nutrient Considerations
Not all fat-free yogurts are equally beneficial as late-night snacks. Choosing nonfat, plain Greek yogurt is a good choice because it's often lowest in calories and sugar but higher in protein than regular nonfat, fruit-flavored yogurts. For example, a 6-ounce container of nonfat Greek yogurt contains 100 calories, 17 grams of protein and 6 grams of total carbs – including 5.5 grams of sugar -- while a 6-ounce portion of regular, fruit-flavored nonfat yogurt provides 162 calories, 7 grams of protein and 32 grams of total carbs -- including 32 grams of sugar.
Potential Drawbacks
Eating late-night snacks, even fat-free yogurt, for reasons other than being hungry can lead to unwanted weight gain. Choosing fruit-flavored nonfat yogurt instead of nonfat, plain Greek yogurt adds additional late-night calories and sugar, which can spike blood sugar levels and make it more difficult to fall asleep. If a late-night snack is a must for you, however, choose brands of yogurt high in protein and lower in sugar.
Portion Recommendations
Regardless of what time of day you eat fat-free yogurt, eating it in recommended portions as part of a well-balanced diet helps you get your daily dose of essential nutrients while maintaining a healthy body weight. Fat-free yogurt is part of the dairy food group. The publication "Dietary Guidelines for Americans, 2010" suggests consuming 3 cups from the dairy food group daily when eating 1,600 to 3,200 calories a day. The guidelines recommend 2.5 cups from the dairy food group when consuming reduced-calorie, weight-loss diets containing 1,200 to 1,400 calories daily. A cup from the dairy group equals 1 cup -- the equivalent to 8 ounces -- of fat-free yogurt, 1 cup of milk or soy milk or 1.5 ounces of reduced-fat cheese.