Prolonged illness, dry mouth, antibiotics and an overall weak immune system can lead to a yeast infection with thrush. Having diabetes can also increase your risk. Babies and the elderly are at an increased risk of developing thrush, according to NYU Langone Medical Center. If you have thrush or are susceptible to it, eating yogurt can help.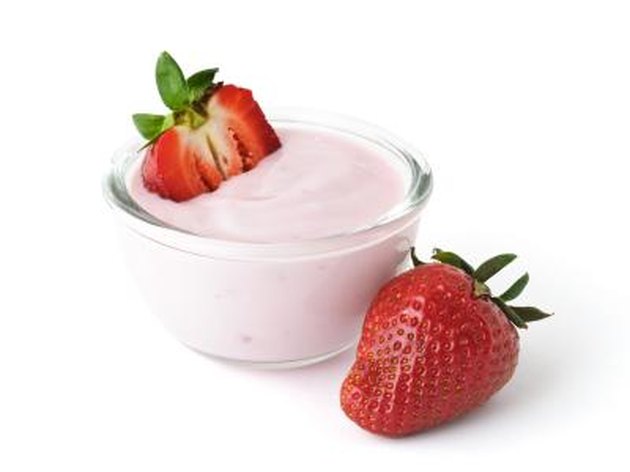 What Causes Thrush?
Candida albicans is the yeast that is responsible for producing thrush. It is normal for tiny amounts of the C. albicans fungus to live inside the mouth and on the tongue. However, if candida grows out of control, it can lead to a yeast infection. Oral thrush produces white lesions on the tongue, gums and inside skin of the cheeks. Treatment includes the use of a yeast fighter to calm the overgrowth and restore normal fungal growth. This is where yogurt can help.
Why Yogurt Works
Made from fermented milk, yogurt has a thick, creamy texture and slightly sour taste before flavoring. Yogurt contains beneficial bacterial microorganisms that are alive and active. Lactobacillus acidophilus, considered a probiotic, is the bacteria in yogurt that is capable of controlling yeast infections. According to the University of Toledo, Lactobacillus acidophilus produces lactic acid. Lactic acid lowers pH levels in the body, creating an environment inhospitable to C. albicans.
Additional Treatments
Sometimes yogurt and its active cultures are not enough to conquer thrush. Drexel University College of Medicine reports that 3-percent peroxide is an effective anti-fungal. The hydrogen peroxide requires dilution with water at a ratio of three parts warm water to one part hydrogen peroxide. Dipping a clean, soft toothbrush into the diluted 3-percent hydrogen peroxide solution and brushing the tongue lightly with it lowers the pH of the tongue, thus controlling C. albicans.
When to Call the Doctor
The presence of thrush in adults can be indicative of an underlying immune deficiency disorder. Thrush that does not resolve with yogurt or hydrogen peroxide within two weeks, or if it is reoccurring, warrants a trip to the physician. The University of Maryland Medical Center explains that while eating yogurt may help with a mild case of thrush, medication may be necessary if the condition does not improve. Anti-fungal mouthwashes are available by prescription to treat thrush. Swishing with an anti-fungal mouthwash for five to 10 days controls the C. albicans fungus.