Smoking uses a combination of low heat and wet wood chips to add flavor and lightly preserve meat. Although smoking stops some bacteria from forming on ham and slows the process of fat oxidation, it is not by itself enough to preserve the meat for very long. For this reason, purchasing an uncured, but smoked ham is the same as purchasing raw, fresh pork. Cooking this type of ham requires slightly less time, but the same attention to safe handling procedures as you give to other forms of fresh pork.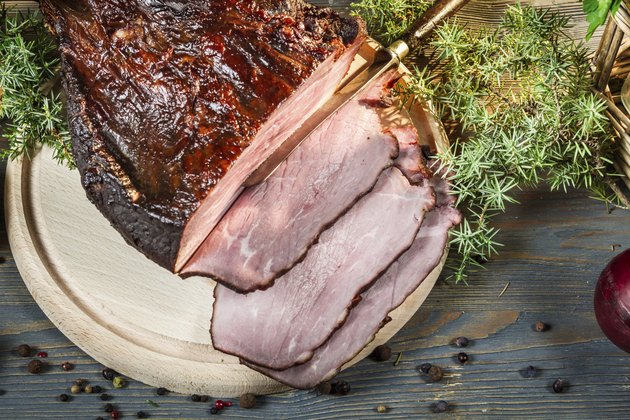 Step 1
Remove the ham from your refrigerator up to two hours before cooking. This allows the ham to come to room temperature so that during cooking, the internal and external portions of the ham cook evenly.
Step 2
Trim the layer of external fat down to about ¼ inch using a straight edge or utility knife. Score the remaining fat by running your knife through the remaining fat layer, first in one direction and then the other, creating square or diamond shapes in the fat. Avoid cutting into the meat when scoring, as this will allow meat juices to escape during cooking and increase the chance your ham will become dry.
Step 3
Insert an oven proof meat thermometer in the middle area of the ham, avoiding the bone if your ham is a bone-in ham.
Step 4
Transfer the ham to a shallow baking pan with a wire rack. Smoked uncured ham has a flavor of its own so there is no need to season the meat before cooking,
Step 5
Preheat your oven to 325 to 350 degrees Fahrenheit and set the ham in the oven to cook. Because you are using a dry heat method of cooking the ham, do not cover the ham or baste it during cooking.
Step 6
Roast the ham until the meat thermometer reads 150 to 155 degrees Fahrenheit. The time it takes to reach this temperature depends on whether you are cooking a bone-in or boneless ham, with a bone-in ham requiring slightly less time. In general, a whole, bone-in ham requires 18 to 20 minutes per pound, a half, bone-in ham requires 22 to 25 minutes per pound and a whole, boneless ham requires about 30 minutes per pound.
Step 7
Add an optional glaze during the last hour of cooking time. One application of a glaze such as maple syrup or honey is enough make to color and create a crust on the surface of the ham.
Step 8
Remove the ham from the oven and transfer to a serving platter by lifting it with a spatula on each end. Let the ham sit for 10 to 15 minutes before cutting and serving. The internal temperature of the ham will continue to rise during this time, reaching the 160 degree Fahrenheit "doneness" requirement. Cover the ham with aluminum foil to ensure it stays warm if it will sit for longer than 15 minutes.
Things You'll Need
Straight edge or utility knife

Smoked uncured ham

Roasting pan with rack

Meat thermometer

1/3 to 1/2 cup maple syrup or honey

Basting brush

2 spatulas

Aluminum foil

1 tablespoon unscented, liquid chlorine bleach

1 gallon of water
Tips
Observe safe food handling procedures when preparing uncured smoked ham. These include washing your hands with hot water and soap before and after handling the meat as well as disinfecting cooking utensils and surfaces such as your counter top and cutting board with a bleach and water solution.