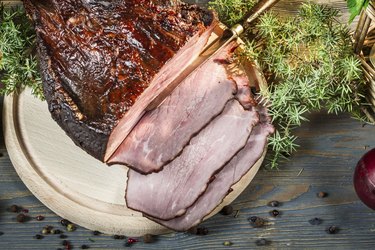 The holidays come with many traditions — from charitable donations and religious ceremonies — to decorative holiday cookies and white elephant gifts. The type of food served can also be a tradition for many families and uncured ham continues to be a popular choice — but how the heck do you cook it?
Tip
To cook uncured smoked ham, try smoking it on a charcoal grill using a low temperature (300-325 degrees), a block of hickory wood, and a honey mustard glaze. This takes approximately four to six hours depending on the size of your ham. Make sure the internal temperature reaches a minimum of 145 degrees and let it rest for at least three minutes before serving.
Smoking Uncured Ham
It's pretty simple to bake your holiday ham in the oven, but if you want to take your flavor profile and texture to a whole new level, try smoking your uncured ham first. Some people smoke their meats using an actual smoker, but don't fret if you don't have one at home. It's easy to smoke your ham on the barbecue grill and this method provides equally yummy results.
Boneless Fresh Ham Roast Recipe
With the hustle and bustle of the holidays, many people stress out about cooking and presenting the perfect ham to their guests. But the good news is the best way to cook a smoked ham is simple and can be done on the grill.
For optimal results, lightly salt your ham, wrap it in plastic wrap and put it back in the fridge for 24 hours before starting.
When ready, remove the ham from the refrigerator, unwrap it and let it sit for two hours.
After two hours, score the fat layer of the meat with a sharp knife in a triangle, diamond or square pattern based on preference. Be careful to cut just the fat layer and not into the meat itself.
Transfer your ham to a roasting pan, pouring one cup of water into the bottom of the pan and slowly pouring one cup of apple juice over the top of the ham, letting it drip into the pan below.
Soak a small block of your favorite hardwood (hickory, for instance) in water for 15 minutes while heating a charcoal grill to 300 degrees.
Once ready, place your wood on top of the charcoals and your roasting pan on top of the grill grate.
Close the grill lid and let the smoke infuse the ham for approximately two hours on 300 degrees.
While that's cooking, make your glaze. Try mixing 1/3 cup of honey, 1/2 cup of dijon mustard, 1/3 cup brown sugar, 1/3 cup apple juice and two tablespoons of apple cider vinegar over the stove top until it's nice and smooth.
After your ham has been smoking for two hours, increase the temperature of your grill to 325 degrees and brush the glaze over your ham; repeat this process every 45 minutes, adding layers of glaze every time.
Continue this process for another 2-4 hours, depending on the size of your ham, until it reaches an internal temperature of at least 145 degrees, per food safety guidelines set by the United States Department of Agriculture (USDA).
When done, let the ham rest for at least three minutes before serving. Enjoy!
Tip
If you have leftover ham, try using it to make our delicious ham-and-egg cups for breakfast. Adding just a few pieces to each cup works wonders!
According to the USDA, a three-ounce portion of roasted ham contains about 232 calories and 23 grams of protein. Be aware, though — this small portion is also high in saturated fat and cholesterol. During the holidays, there is a tendency to overindulge in portion size and these indulgences can go much further than just your consumption of ham.