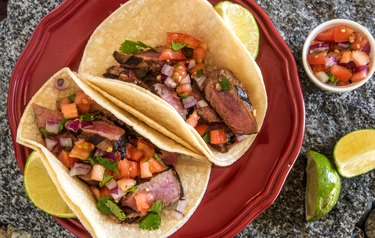 Add some flair to your dinner repertoire by grilling carne asada, a type of marinated steak. Serve it with tortillas or over rice, and add a pico de gallo made from juicy tomatoes, creamy avocados and seasoning for a flavorful entree.
A quick and easy carne asada recipe calls for either skirt steak, like this recipe from the Mayo Clinic, or flank steak, like from the American Culinary Federation. Outside skirt steak is also known as beef plate, according to the Cattleman's Beef Board. Like flank steak, it's a thin, flavorful cut that tastes great when marinated and grilled over a heat heat.
Carne Asada Ingredients
Lean beef: Choose either a pound of flank steak or a pound of skirt steak for an authentic carne asada recipe. However, you can use another lean cut, such as sirloin, if that's all you can find at your local grocery store.
Citrus juices, such as limes: The juice from two limes makes up the basis of the marinade, although other recipes, like this one from the Pennsylvania Beef Council, also calls for a half-cup of orange juice.
Extra-virgin olive oil: Add a quarter-cup of olive oil to the marinade, although you can cut it down to 2 tablespoons if you're trying to keep the calories in check.
Seasonings: To the marinade, add 1 teaspoon of cumin, 1 teaspoon of chipotle chili pepper, 2 tablespoons of garlic, 2 tablespoons of cilantro, 1/4 teaspoon of kosher salt and 1 tablespoon of sugar or 2 teaspoons of honey for a bit of sweetness. For the best flavor, play around with Mexican seasonings and spices to find an authentic carne asada recipe you enjoy.
How to Grill Carne Asada
Combine the marinade ingredients: In a large bowl or zip-top plastic bag, combine the citrus juices, extra-virgin olive oil and all the seasonings. Add the flank or skirt steak to the marinade mixture and make sure it's coated thoroughly.
Safely marinate the carne asada in the refrigerator: Let the steak marinade for at least four hours or overnight. The U.S. Food & Drug Administration (FDA) recommends always marinating food in the refrigerator, not on the counter, and never reusing marinade.
Prepare the grill: Grilling carne asada starts by turning the grill on to a high heat. Place the steaks on a grill rack that has been coated with cooking spray.
Grill the carne asada: Put the meat on the grill and cook for approximately six minutes on each side, though the carne asada cook time will depend on how thick the steak is. The FDA advises cooking beef to an internal temperature of 160 degrees Fahrenheit.
Let the meat rest: Remove the steak from the grill and let it rest on a cutting board before cutting the meat against the grain into thin slices and serving.
Serve the carne asada: The American Culinary Federation recommends serving carne asada on tortillas to make a taco. Top the tacos with sliced cabbage, queso fresco and a homemade pico de gallo made from tomatoes, avocado, onion, jalapenos, lime juice, cilantro and salt. Let the pico de gallo mixture sit at room temperature for 30 minutes before serving.