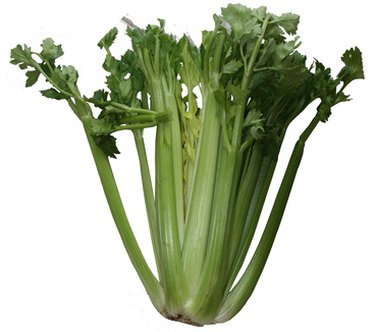 Pain or discomfort in the head or scalp is a common condition that is often related to stress, anxiety, injury or depression. Certain infections, lack of sleep or food, alcohol, street drugs, and overworking are some of the other common factors that may lead to headaches. In fact, headaches can be classified into several types, such as cluster headaches, sinus headaches, migraines and tension headaches, based on their frequency, area, severity and cause. Over-the-counter pain medications may help manage the condition along with natural herbs and supplements such as celery.
Celery and Its Supplements
Celery, or Apium graveolens, is a slender, tall plant with segmented leaves and small, white flowers. Small, brown and tan seeds, found in the flowers of the plant, contain volatile oils, flavonoids and other chemical compounds that are responsible for its biological activity. Celery products are available as fresh or dried seeds, tablets, capsules, seed oils, juice and extracts, and have been used in Oriental medicine to treat a variety of conditions including gout and rheumatoid arthritis.
Link between Celery and Headache
Tinctures prepared from celery seeds can help relieve headaches that last all day and increase when eating and in open air, according to Dr. Timothy Field Allen, author of the book "Handbook of Materia Medica and Homeopathic Therapeutics." The author also recommends celery seed tinctures to treat sharp headaches over the eye and temple area that last all night, and for throbbing aches in the temple. Paul Pitchford, in his book "Healing with Whole Foods," recommends celery juice combined with lemon juice to treat headaches caused by high blood pressure and excessive heat. Celery can also help relieve throbbing headaches, sunken eyeball feeling and lack of sleep due to thinking, which may aggravate the headache, says Dr. William Boericke in the book "Pocket Manual of Homeopathic Materia Medica."
Side Effects
Celery products are safe to use in the general population, although allergic reactions including rash and shortness of breath may sometimes occur. However, the University of Maryland Medical Center warns pregnant women against the use of these supplements as they may lead to uterine bleeding, contractions and miscarriage. The herb should also be avoided by individuals with kidney inflammation. Celery may also interfere with certain blood-thinning and diuretic medications.
Precautions
Always talk to a doctor before using celery products to determine if they are right for you. Never take celery seeds from the garden packet as they are treated with harmful chemicals. Also, the production of herbal supplements in the U.S. is not regulated by the Food and Drug Administration. Ensure the safety and purity of the product before taking.