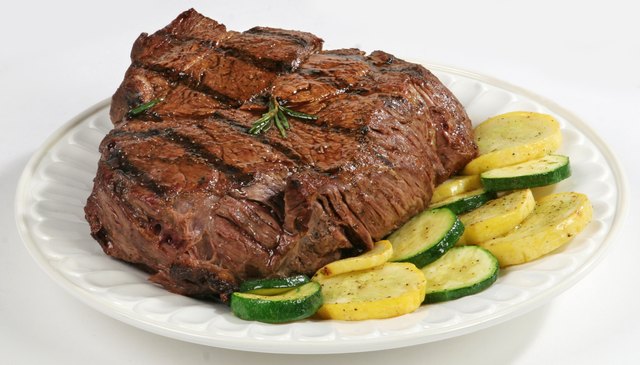 A bone-in chuck roast is a cut of beef that comes from the shoulder area of a cow and includes a portion of the shoulder bone. Leaving the bone in a chuck roast adds flavor. Chuck roasts are most often braised to bring out their flavor and lend tenderness to the dish. Bone-in chuck roast can be paired with a side of steamed vegetables and a baked potato to create a delicious, nutritious meal that supplies many essential vitamins and minerals.
Step 1
Sprinkle salt and black pepper on your bone-in chuck roast.
Step 2
Heat 14/ cup olive oil on high in a large stock pot on your stove, and add the whole roast. Sear on each side until golden brown, about 10 minutes total.
Step 3
Put 1 1/4 cups dry red wine, 1/2 cup white vinegar and a sprinkle of granulated sugar in a large bowl while your roast sears. Whisk well until the sugar dissolves. Set aside.
Step 4
Remove your roast from the oil with a large pair of tongs, and set aside.
Step 5
Reserve 2 tbsp. of the oil in the bottom of the pan, and discard the rest. Add 2 chopped white onions to the oil and cook until onions are soft and translucent, about five minutes.
Step 6
Stir in 1/3 cup minced garlic cloves, and cook for two more minutes.
Step 7
Return your roast to the pan, and pour in the wine and vinegar mixture. Add three chopped beefsteak tomatoes. Pour in low-sodium beef broth to cover the roast about halfway. Bring to a boil.
Step 8
Cover the pot and reduce the heat to low. Allow your chuck roast to braise for two hours.
Step 9
Lift the lid on the pan, and pierce the roast with a fork. If you can easily pull the fork out, your roast is done. If not, cover and cook for 30 minutes more. Remove to a serving platter using tongs, and serve warm.
Things You'll Need
Bone-in chuck roast

Stock pot

1/4 cup olive oil

1 1/4 cups dry red wine

1/2 cup white vinegar

Granulated sugar

Tongs

2 white onions, chopped

1/3 cup minced garlic cloves

3 beefsteak tomatoes, chopped

Low-sodium beef broth

Serving platter
Tip
Try different seasonings on your roast before searing it. Rosemary, thyme, oregano and cayenne pepper all lend flavor to the meat. Experiment with different combinations to discover new flavors.
All braising requires is some type of liquid to cook your meat in for a long period . Try white wine or replace the white vinegar with balsamic vinegar for a different flavor.
Roasted vegetables, such as carrots and potatoes complement a braised roast.
Warning
Keep the heat low because braising requires low heat for a long period to achieve a tender chuck roast.