While there is some speculation over the origin of the word, most people associate curry with a blend of spices or a spicy sauce. Some of the most popular powdered curry spice originates from India and Turkey. You can buy curry powder or make your own. Chicken curry blends the aromatic spice with a creamy sauce that you serve over chicken. Serve chicken curry with aromatic, unseasoned steamed rice.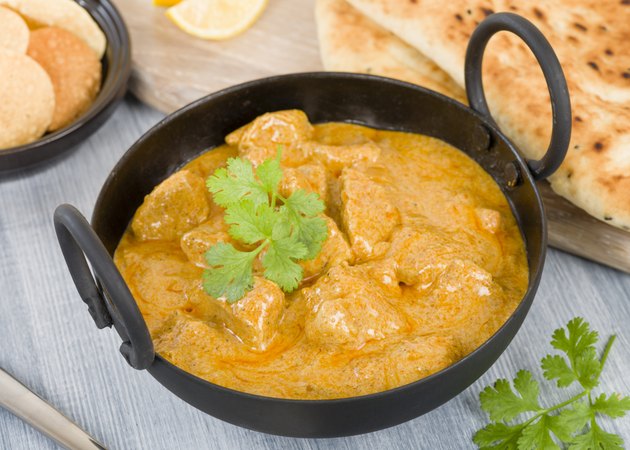 Step 1
Cut uncooked chicken breasts into bite-sized cubes.
Step 2
Heat oil in a skillet over medium heat. Saute the onion until lightly browned.
Step 3
Stir in the garlic, curry powder, cinnamon, paprika, bay leaf, ginger and salt.
Step 4
Add the chicken, tomato paste, yogurt, and chicken stock. Stir until all ingredients are blended. Reduce the heat, cover and simmer for 20 to 25 minutes.
Step 5
Remove the bay leaf and add lemon juice and cayenne pepper. Simmer for an additional five minutes.
Step 6
Add water to a saucepan and bring it to a boil. Lower the heat and add the rice. Cook covered for 20 minutes, until the rice is tender.
Step 7
Serve 1 1/2 cups chicken curry over 3/4 cup steamed rice. Garnish with parsley.
Things You'll Need
Large skillet with lid

Spoon

3 tbsp. canola oil

1 small onion, chopped

2 cloves garlic, minced

3 tbsp. curry powder

1 tsp. ground cinnamon

1 tsp. paprika

1 bay leaf

Salt to taste

1 lb. skinless chicken breast

1 tbsp. tomato paste

1 cup plain low-fat yogurt

3/4 cup chicken stock

2 tsp. lemon juice

1/2 tsp. cayenne pepper

1 tsp. parsley, chopped

1 cup jasmine rice

3 1/4 cups water

2-quart saucepan with lid
Tips
This recipe makes four servings. To make your own curry powder at home, combine 3 tbsp. ground turmeric, 1 tbsp. ground cumin, 1 tbsp. cardamom, 1 tbsp. coriander, 1 tbsp. dry mustard and 1 1/2 tsp. cayenne pepper in an airtight container and shake. You can store it up to six months. Ketchup can be a substitute for tomato paste. You can substitute low fat sour cream for yogurt. To make quick chicken stock, dissolve a bullion cube in 3/4 cup of water. Some chicken curry recipes include raisins, apples, nuts or coconut. Try basmati or other long grain rice in place of jasmine rice. Use a meat thermometer to test the internal temperature of your chicken. You can eat your meal once the chicken reaches an internal temperature of 165 degrees F, says FoodSafety.gov.
Warning
You must cook chicken thoroughly before eating.