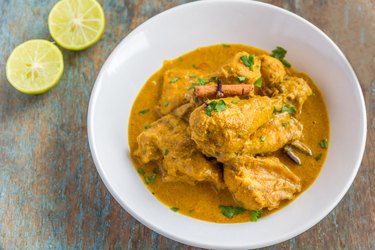 Got a chicken curry recipe you'd like to make? Try using curry powder, which you can get already-prepared or you can make yourself with spices such as cumin, turmeric, coriander and red pepper.
Chicken Curry Powder
While curry generally denotes a variety of Indian dishes with different spices or herbs, curry powder is a Western creation with a specific mixture of spices. According to NutritionFacts.org, curry powder is mainly composed of turmeric, which gives the powder its yellow color. Other spices in curry powder include red pepper, cumin and coriander, says Simply Healthy Family.
According to NIH, turmeric, a common spice related to ginger, has been found — in preliminary studies — to control osteoarthritis pain, reduce certain skin irritation and reduce the number of heart attacks bypass patients had after surgery. Some claim that turmeric reduces inflammation, though those claims are unsupported.
Coriander also has its share of benefits. Better Health Channel explains that coriander is a good source of vitamin A, vitamin C and vitamin K. It also contains potassium, manganese and magnesium, as well as dietary fiber.
Curry Chicken Recipe
There are several recipes that use curry powder. One curry recipe from the USDA calls for 1 ½ teaspoons of olive oil, two boneless, skinless chicken breasts diced into 1 inch cubes, 2 cups of sliced white mushrooms, 2 cups of sliced cremini mushrooms, ½ medium red bell pepper, 2 cups of low sodium chicken broth, 1 cup of raisins, 2 cups of instant whole-grain rice and 1 ½ tablespoons of curry powder.
First, heat the olive oil in a large pan.
Place the chicken in the pan, cover with the lid and heat on medium-high.
Cook the chicken for 5 minutes.
Add mushrooms and peppers to the pan.
Sauté for 3 to 4 minutes.
Add chicken broth to the chicken and vegetables mix.
Mix in raisins, rice and curry powder.
Bring to a boil, then reduce heat and cover.
Cook until rice is done.
Let the dish sit 3 to 5 minutes before serving.
To save time, USDA recommends getting sliced mushrooms, fresh or frozen bell pepper strips and pre-cooked, diced chicken.
Curry Paste vs. Curry Powder
Curry paste and curry powder, though similar, not only vary in texture, but in composition. According to Simply Healthy Family, curry paste is traditionally used in Thai cooking and generally includes spices and herbs such as lemongrass, galangal, garlic, red chilies, ginger and kaffir lime. These ingredients can be combined with vegetable oil and liquid to make a paste.
In Thai cooking, curry paste is often combined with coconut milk to make dishes with chicken, seafood and vegetables. Curry paste, says Simply Healthy Family, can come in different colors, depending on the ingredients used. Red curry paste, for example, might contain red chiles, while green paste would contain fresh green chiles.
Curry powder, on the other hand, is composed mainly of turmeric, cumin and coriander. The American Heart Association recommends combining it with lentil potato stew, veggie and egg scramble, rice or quinoa with cilantro and tuna with celery. The American Heart Association also advises making your own curry powder if the already-made powders are too spicy for you.