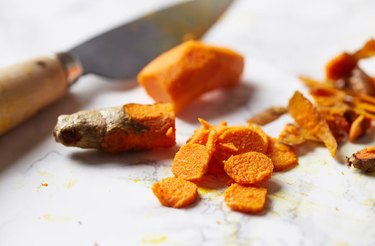 Curcumin, a substance found in turmeric, is a potent antioxidant, according to a 2013 review published in The AAPS Journal. While generally recognized as safe (GRAS) for consumption by the Food and Drug Administration, some people may experience unpleasant side effects after eating or drinking turmeric. Always talk to your doctor before taking herbs for medicinal purposes.
Potential Health Effects of Taking Turmeric
Turmeric is popularly recognized as an anti-inflammatory herbal medicine. According to the AAPS Journal review, it has been suggested that curcumin may play a role in preventing, managing and possibly even treating a number of cancers, including breast, colon, prostate and skin cancers. While this review, among others across the web, suggests turmeric and curcumin can potentially manage or treat cancer, most research has been based on test tube and animal research, not human trials. There is still no concrete research that shows a link between the medicinal herb and the prevention or treatment of these conditions.
Researchers have also explored the use of curcumin as a supplement to mitigate and treat depression. This 2017 meta-analysis of several trials found that curcumin appeared to be not only safe but beneficial in treating the symptoms of depressed patients. Studies conducted by the University of Michigan also point to links between curcumin supplementation and improved depression.
Curcumin has also been used for pain management amongst patients with osteoarthritis, according to a study conducted by Pacific University. However, the study did not go so far as to conclude that curcumin can sufficiently replace anti-inflammatory medication (NSAIDs) and other pain medicine. To their own comfort or preference, the research suggests, osteoarthritic individuals may replace NSAIDs with curcumin or use the two together.
There are dental professionals that have integrated turmeric into their practice in unique ways. Turmeric has been used as a tool to detect dental plaque, according to an article published in the International Journal of Oral Care and Research. After rinsing with or ingesting turmeric, the bright yellow color stains plaque between the teeth. Then, using a light with a specific wavelength, dentists can easily detect the location of plaque.
According to the above mentioned research, turmeric water has also been used as a mouth rinse in dental offices to quickly relieve inflammation in the gums, teeth and tongue. Rubbing ground turmeric on swollen gums or teeth has also been shown to reduce pain.
Some clinical trials have tested the efficacy of topical curcumin in treating oral lichen planus, a chronic inflammatory condition that affects the mucus membranes in the mouth, according to a review published in Oral Diseases. While topical curcumin has shown some positive preliminary data, and patients may use it if they so choose, it still hasn't been shown to effectively replace more common topical treatments.
Associated Turmeric Risks
Due to its NSAID-like effects, UC San Diego Health has advised against consuming turmeric or curcumin while using warfarin, which is commonly used to treat blood clots. When warfarin interacts with anti-inflammatory medications or sources, it can impact the rate at which blood clots. Medsafe suggests that use of turmeric or curcumin products with blood thinning medications can result in longer bleeding times and should be avoided altogether.
Curcumin has also been linked to some negative dermatological risks. According to a November 2015 study published in The Journal of Clinical and Aesthetic Dermatology, curcumin can cause reactions like contact dermatitis. The study even references other examples of past research that has established curcumin as an allergen.
Consult Your Physician
While there's a multitude of claims regarding turmeric and the treatment of various conditions and ailments, there is little beyond anecdotal evidence to show the benefits of this herbal supplement. Nevertheless, many have implemented turmeric into their daily lives for the anti-inflammatory properties. Before you decide to use turmeric powder or supplements, consult a doctor to see if turmeric is right for you.