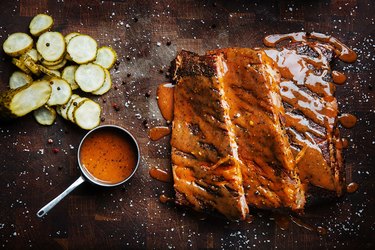 Cooking ribs in the oven and then moving to the grill allows you to easily cook the meat until it's done but still achieve a nice crusty sear on the outside. Tossing meat on the grill can also give your ribs a smoky flavor. After selecting either baby back or spare ribs, find a favorite spice rub and barbecue sauce and you're ready to cook up a great dinner.
In The Oven
Handling your pork safely is crucial. Store your ribs in the fridge at 40 degrees Fahrenheit or colder, according to the USDA, for three to five days at most. If you decide to marinate the meat, do so in a refrigerated, covered container.
After that flavor sets in, you can boil the marinade and brush it over the meat, according to the USDA. Or, massage your favorite spice rub into the ribs. If you decide to go with a rub, place the ribs in a large zip-top plastic bag and set the bag in the refrigerator for two hours.
The USDA recommends preheating your oven to 350 degrees to cook ribs. As the oven heats, line a shallow, uncovered pan with a large baking sheet and two layers of aluminum foil. Place the meat on the pan and, once the oven is ready, carefully place the pan inside. For about two to four pounds of ribs, you will need around two hours of roasting time.
On The Grill
Once the ribs are nearly done roasting, preheat the grill to medium. Carefully remove the meat from the oven and, using a pair of tongs, place the ribs directly over the medium heat. If you're preparing other meat on the grill, the Food and Drug Administration recommends keeping raw food away from your cooked meat to prevent any contamination.
Cover and cook the ribs for about 30 minutes. As the meat has already been cooked in the oven, you can cook to a crispness of your preference. If you want to add a barbecue sauce, brush the meat with your sauce of choice, flip the ribs and cook for 10 minutes. Repeat this process a few more times if you like more flavor.
Throughout the cooking process, open the oven and grill as little as possible while the ribs are cooking. Opening too much will let out the heat and lead to undercooked ribs. The USDA also recommends using a meat thermometer to ensure the ribs are cooked to at least an internal temperature of 145 degrees.