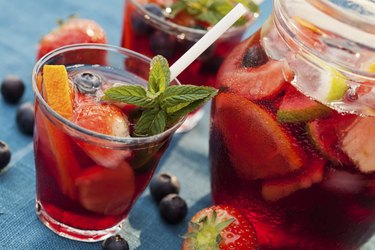 Carlo Rossi Sangria is a combination of citrus fruits, brandy, and honey. It is higher in calories than some other types of wine due to the added carbohydrates and high alcohol content. While Carlo Rossi Sangria may still be appropriate for some low-carbohydrate diets, it is high in calories and low in essential nutrients, so it is not a particularly healthy beverage. Always drink responsibly.
Calories
Carlo Rossi Sangria is high in calories, as a 5-oz. serving of this beverage contains 119 calories, which is about 6 percent of the daily suggested intake of 2,000 calories. If you want to burn off the calories in 5 oz. of Carlo Rossi Sangria through exercise, you can do so with 33 minutes of weightlifting or 24 minutes of water aerobics. An alcoholic beverage lower in calories would be Irish whiskey, which contains 69 calories per serving.
Carbohydrates
Carlo Rossi Sangria is not high in carbohydrates, but it does contain some -- 3.2 g per 5 oz. serving. Carbohydrates are your body's primary source of energy, and the Food and Medicine Board of the National Academies suggest consuming at least 130 g of carbohydrates each day. If you are trying to avoid carbohydrates, try Irish whiskey, as it does not contain any carbohydrates.
Alcohol
Carlo Rossi Sangria has a high alcohol content; each 5-oz. serving of contains about 15 g of alcohol. Alcohol provides 7 calories per gram, so consuming a lot of alcohol can lead to weight gain, particularly because liquids such as sangria are not as filling as whole foods.
Fat
Carlo Rossi does not contain any fat. While dietary fat is rich in calories, with 9 calories per gram, it does serve important functions, such as increasing feelings of satiety and aiding your body in absorbing nutrients.
Protein
Carlo Rossi Sangria does not contain any protein. Protein is essential for proper health, as it contains the amino acids your body uses to build cells and tissues. Protein-rich foods include seafood, poultry and beef.