Due in part to how it's portrayed in movies, drinking raw eggs is sometimes perceived as a healthy, fast way for bodybuilders and athletes to consume protein and recover from intense workouts. Eggs are a quality source of protein, vitamins and minerals, but raw eggs and cooked eggs have different digestive and nutritional properties. While drinking eggs provides you with many of the same benefits as consuming cooked eggs, cooked eggs remain a superior choice.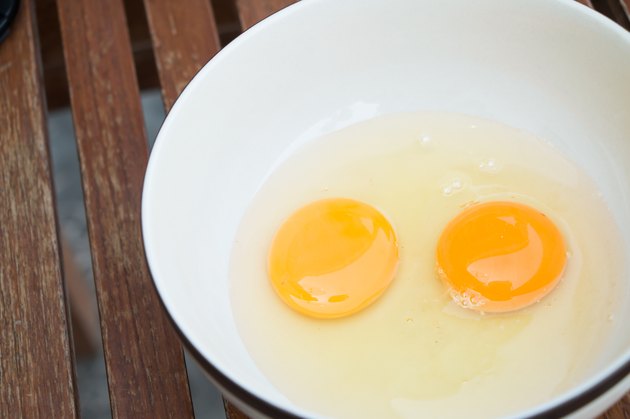 Vitamin and Mineral Content
Both raw eggs and cooked eggs are quality sources of vitamins and minerals such as vitamin D, vitamin B-12 and phosphorus. Raw and cooked eggs contain varying amounts of these nutrients, but the differences are slight. For instance, one large raw egg contains 99 milligrams of phosphorus, while one large cooked egg contains 86 milligrams. One large raw egg contains 41 international units of vitamin D, while one large cooked egg contains 44 international units. Drinking raw eggs provides micronutritional benefits comparable to those of eating cooked eggs.
Lack of Protein Availability
One of the main motivators for drinking raw eggs is getting a high amount of protein quickly. With nearly 7 grams of protein in one large egg, cooked or raw, eggs are a quality source whether they are liquid or solid. However, according to a study from the "International Journal of Food Sciences and Nutrition" published in 2004, egg whites that are cooked are digested more thoroughly than raw egg whites in the presence of acid, like stomach acid. Cooking food leads to more efficient denaturing of protein, which makes that protein more available to the body.
Risk of Biotin Deficiency
Biotin is a coenzyme and vitamin important to several metabolic functions in the body. Biotin deficiencies are rare, but individuals who consume large amounts of raw eggs are at higher risk for deficiency. Raw eggs contain a protein called avidin, which binds to biotin and prevents it from being absorbed in the body. Side effects of a deficiency include skin infections, seizures, thinning hair and immune dysfunction. Cooked eggs do not increase the risk for biotin deficiency.
Salmonella Risk
The risk of contracting salmonella from raw eggs makes cooked eggs safer for regular consumption. According to a study in "Risk Analysis" published in 2002, approximately 2.3 million eggs out of 69 billion are contaminated with salmonella, or about 0.003 percent of all eggs, resulting in approximately 661,633 human cases of the disease per year. Adding a salmonella risk to the risk of biotin deficiency and less available protein, raw eggs are not a good choice for regular consumption.