Reheating meals in the microwave can be both convenient and time-effective. Nearly everything can be reheated in a microwave, including meat. If you take leftovers to work for lunch the next day, you'll need to know how to properly reheat your chicken, beef or fish to ensure that you don't end up with a dry or rubbery lunch. Microwaves come in different sizes and wattage that affect cooking times; keep this in mind when you reheat foods at home and work.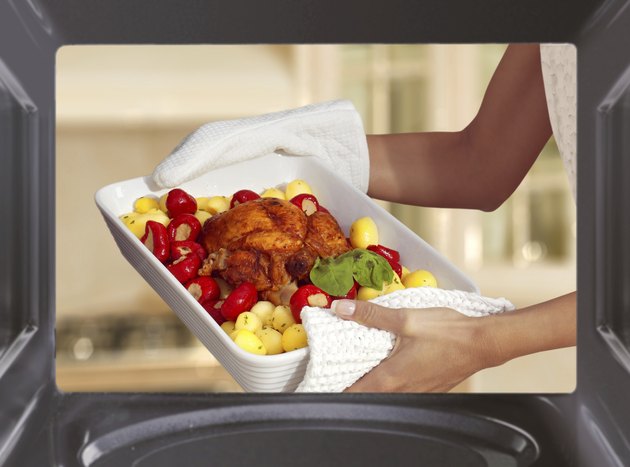 Step 1
Prepare your meat to be reheated by placing it in a microwave-safe dish. Containers are marked on the bottom if they are safe for use in microwave ovens. Plastic containers not meant to be used in the microwave can melt when heated.
Step 2
Position the meat around the outside of the dish, if possible, if you are reheating other items with your meat. This will ensure a more even heating, since foods located on the dish's outside tend to heat faster and meat takes longer to heat than vegetables or pasta.
Step 3
Sprinkle the meat with a few drops of water or broth to keep it moist while heating.
Step 4
Place a microwave-safe lid or microwave-safe plastic wrap over the container. If using plastic wrap, do not allow it to touch the food. Using a lid or wrap will help retain the moisture in the dish, keeping the meat from drying out.
Step 5
Reheat your food on high until it reaches an internal temperature of 165 degrees Fahrenheit. Reaching this temperature kills bacteria and decreases the risk of food poisoning. This can be checked with a food thermometer after the heating is finished. Do not use a thermometer inside the microwave during the heating process. If the meat is not 165 degrees, continue heating for an additional minute at a time until you reach this temperature.
Step 6
Remove the meat from the microwave with heat-proof mitts to prevent burns.
Step 7
Place the food on the counter and allow it to stand for at least one minute before serving. Microwaving can cause hot spots in food that could cause burns.
Things You'll Need
Microwave-safe container

Microwave-safe lid or plastic wrap

Heat-proof mitts or pot holder
Tip
Heating times depend on the amount of food you are reheating. A single hamburger or chicken breast may require one minute while an entire roast may take four minutes or longer. On average, most single servings of beef, chicken and fish require 45 seconds to two minutes.