After a long hiatus from the gym, post-exercise muscle soreness may be the price you are willing to pay to get back in shape, knowing that the pain will subside after a few days. But while you may be able to moderate your intensity and work through soreness, relentless intense workouts that ignore pain can backfire on you, breaking muscles down instead of building them up.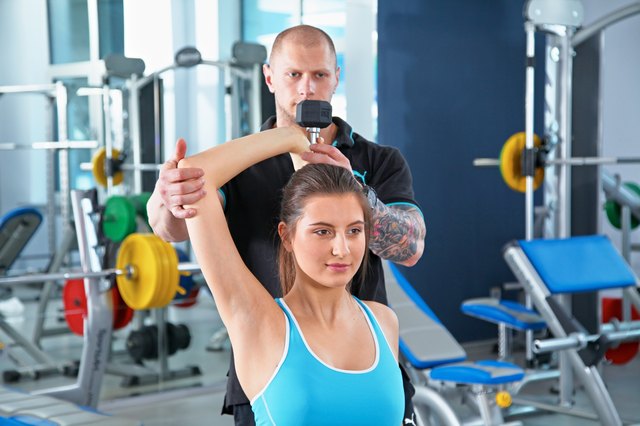 DOMS
Muscle pain that manifests a day or two after lifting is known as delayed onset muscle soreness, or DOMS. At one time thought to be caused by the buildup of lactic acid in muscle tissue, current science attributes DOMS to micro-tears in muscle tissue followed by an inflammatory response that promotes healing. DOMS should ease within three days and completely disappear within a week. Pain that persists beyond a week is not normal, and may require medical attention.
Training and Recovery
It has been a long-held rule of weight training that you should allow a minimum of 48 hours recovery time between workouts for the same muscle group. However, muscle damage sustained during very high intensity workouts like those done by bodybuilders and powerlifters may require 72 hours or longer for full recovery. Continuing to lift when muscles are sore can slow recovery and keep you from getting desired results. Allow your body to heal for several days after an intense workout, when you're no longer sore, before working the same muscle group again.
Exercise as a DOMS Antidote
As much as you may be tempted to continue your lifting routine and work through muscle soreness, the American College of Sports Medicine notes that muscles improve during recovery, not during training. Training merely triggers an adaptation response that takes place over time as the cells become stronger. Continuing to lift may inhibit the adaptation response, breaking muscles down rather than building them up. However, if staying away from the gym is not an option, non-weight-bearing exercises, such as swimming and stretching, are acceptable activities until your muscle soreness is completely gone.
DOMS Prevention and Treatment
While therapies like nutritional supplements, hydrotherapy baths and massage are reported by some to be soothing, time is the only real healer for DOMS. Meanwhile, preventive measures like doing a thorough warm-up before lifting, stretching worked muscles afterward and increasing exercise intensity gradually are good strategies to minimize pain while keeping your lifting schedule on track. Limit increases in intensity and duration to 10 percent per week.