Though exercise is good for your body, if you exercise too strenuously or do it without a proper warm-up or cool down, you could be setting yourself up for pain afterward. Post-workout muscle pain is typically caused by microscopic tears in your muscle fibers. These tears are small injuries sustained by your muscles while trying to perform the intense work asked of them. Only time can heal this pain, but certain strategies may help you reduce your risk of injury.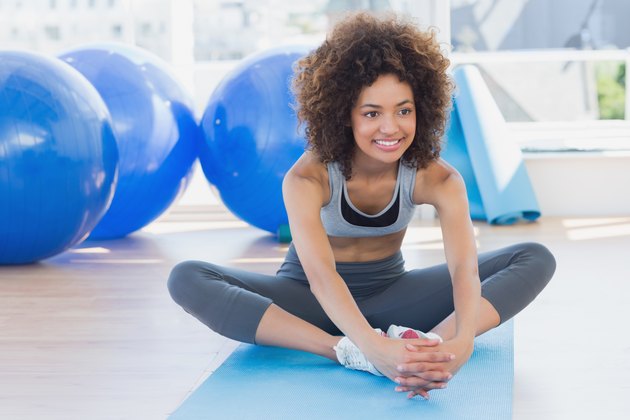 Thigh Anatomy
The inner thigh muscles perform a movement known as adduction, or bringing the legs in toward the midline of the body. These muscles include the pectineus, adductor longus, adductor brevis, gracilis and adductor magnus. All of these muscles are positioned on the inside of the thigh next to the quadriceps. Taking extra care to stretch and warm up these muscles can reduce injury and allow you to perform your regular activities, pain-free, after exercise.
Before and After Stretching
Stretching is useful to both prevent overuse injuries and to help rehab your muscles. Stretches should be part of both the warm-up and cool down phases of your workout. Stretching helps to prepare your muscles for exercise and reduces the risk of injury. When your muscles are sore from exercise, gentle stretching encourages blood flow to the area and can help reduce pain and speed healing.
Useful Stretches
Two stretches to work into your warm up and cool down are the butterfly stretch and the seated straddle stretch. To perform the butterfly stretch, sit on the ground with your leg in a folded position so that the bottoms of both feet are touching one another. Keeping your abdominals engaged, slowly lean as far forward as you can, keeping your knees down and your feet together. Hold the stretch for 20 seconds, then repeat two to three times. To do the seated straddle stretch, sit on the ground with both legs extended and as far apart as you can get them. Keeping your abs engaged and your back straight, slowly lean your chest forward between your legs. Hold this stretch for 20 seconds and repeat two to three times.
Warm Up and Cool Down
To reduce the likelihood of pain in your muscles take 10 minutes before your workout and 10 minutes after your workout to do a proper warm-up and cool down. A warm-up should involve light-intensity dynamic exercise after stretching. A warm-up slowly increases blood flow and body temperature around the working muscles, preparing them for exercise. A cool down is done at the very end of your workout and should be followed by a stretching program. A proper cool down helps reduce blood flow and temperature and slowly relaxes your muscles.