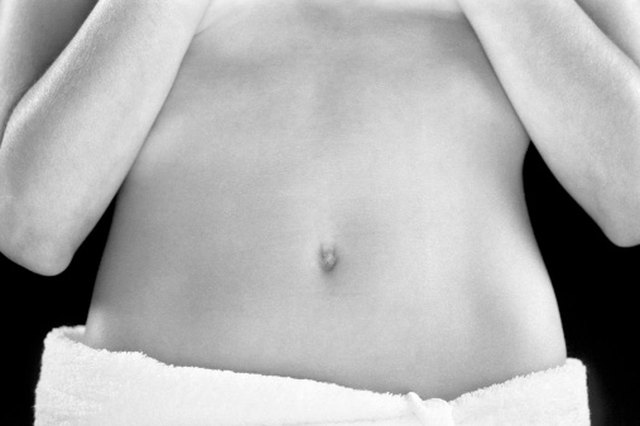 Being a size zero is an accomplishment that may be desirable, but it can be difficult to reach because it requires a low body weight and minimal levels of body fat. Although consuming certain foods can enhance your chances of reaching a size zero, you should also exercise to aid in your weight management goals. Note that whatever foods you choose, you will still need to control your calorie intake to lose weight. Consult a doctor before attempting any weight loss plan.
Mackerel
Mackerel is a species of fish that can aid your quest to becoming a size zero for several reasons. First, mackerel is relatively low in calories -- an 88 g fillet of mackerel provides 180 calories, which is less than 10 percent of the daily suggested intake of 2,000 calories. Mackerel is also rich in protein, a nutrient that can enhance feelings of fullness. Mackerel is also rich in omega-3 fatty acids, a type of fat that may aid in reducing the risk of cardiovascular disease. In addition, omega-3 fatty acid intake may help you lose fat, according to research from the December 2007 issue of "The American Journal of Clinical Nutrition,"
Spinach
Spinach is a green, leafy vegetable that can help you reach a size zero because of its low calorie count and high fiber content. Spinach is quite calorie sparse -- 1.5 cups of this food contains just 10 calories. More than half of the carbohydrates in spinach come from dietary fiber, a nutrient that promotes feelings of fullness, so eating large portions of spinach can help you manage your appetite and lose weight or remain a size zero.
Eggs
Eggs are a protein-rich food that may help you manage your weight and reach a size zero. A study from the October 2008 issue of the "International Journal of Obesity" indicates that consumption of eggs for breakfast can reduce your daily calorie intake compared with other breakfast foods. The high protein content of eggs can also be beneficial; research published in the May 2010 issue of the journal "Diabetes Care" indicates that high-protein diets can improve fat and weight loss compared with other diets.
Asparagus
Asparagus is a low-calorie vegetable that offers several nutritional characteristics beneficial to weight loss. A 93 g serving of asparagus contains just 25 calories, and of the 4 g of carbohydrates, 2 g come from dietary fiber. Asparagus is also rich in protein, with this nutrient providing one-third of the total calories in asparagus. Consuming asparagus can be an effective way to increase your fiber and protein intake, both of which may aid in weight loss.