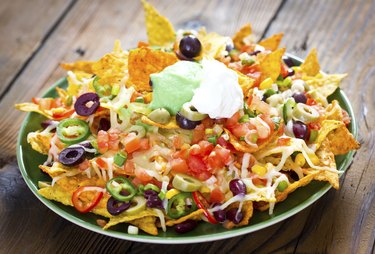 It's easy and quick making nachos in your oven. The dry heat of your oven melts the cheese while keeping the chips crisp. Using extra-thick tortilla chips in this recipe keeps the chips from breaking when you make the nachos as well as while eating this game time or anytime snack. What will emerge from the oven is a crisp, hearty snack you can serve to your family, guests or just enjoy on your own.
Step 1
Preheat the oven to 350 degrees Fahrenheit.
Step 2
Layer the tortilla chips all over a rimmed baking sheet. You can layer the chips two layers thick since the toppings do not need to directly cover all the chips.
Step 3
Place a small saucepan over low heat on the stove top burner.
Step 4
Empty the refried beans into the saucepan and cook for a few minutes until the beans are smooth enough to easily layer over the nacho chips.
Step 5
Spread the refried beans over the top layer of the chips with a spoon. Spread the refried beans as evenly as possible.
Step 6
Sprinkle the grated cheese evenly over the top of the refried beans.
Step 7
Add several pickled jalapeno pepper slices to the top of the nachos.
Step 8
Place the pan in the oven and cook for 10 minutes, or until the cheese is completely melted.
Step 9
Remove the pan from the oven and serve immediately.
Things You'll Need
1 large bag of extra-thick tortilla chips

Rimmed baking sheet

Small saucepan

3 cups refried beans

Spoon

3 cups grated cheddar or pepper jack cheese

Pickled jalapeno pepper slices
Tip
Serve the nachos with sour cream, black olives, guacamole, green onions, fresh cilantro, diced tomato and salsa on top.
Add a layer of ground beef or shredded chicken on top of the refried beans if you want meat nachos.
Add a layer of chili over the top of the refried beans for more flavor.
For a healthy option, try using low-fat cheese and black beans. You might also add chopped fresh vegetables, such as tomatoes, lettuce and bell peppers, along with a slice of avocado.