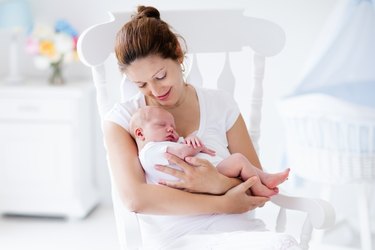 Your body can get vitamin D from foods fortified with vitamin D, supplements or from producing it with the help of sunlight. Only a few foods have vitamin D, and you may not be able to meet your own needs and that of your nursing infant through diet alone. Studies have shown that dietary vitamin D supplements increase the amount of vitamin D available to the infant, helping meet the needs of both mother and baby. You should consult your doctor, however, before you add any supplement to your diet.
Recommended Dietary Allowance
Infants age zero to 12 months need 400 IU of vitamin D daily. A baby that is exclusively breast fed and not given supplements will need to get this from the mother. Females age 14 to 50 years need 600 IU per day, according to the National Institutes of Health's Office of Dietary Supplements. The same recommendation is made for women who are pregnant or nursing.
Scientific Evidence
A 2004 study published in the "American Journal of Clinical Nutrition" indicated that the vitamin D level of a nursing infant was directly correlated to the intake of the mother. Nursing mothers were given either 2000 or 4000 IU of vitamin D per day for three months. It was found that vitamin D concentrations in the mothers and infants increased substantially in both groups, with a more significant increase with the higher dosage. The amount of vitamin D found in the infants was a reflection of the vitamin D level of the mothers' breast milk. The researchers contended that 2000 IU of vitamin D per day for nursing mothers would only have limited success in providing adequate vitamin D for infants, suggesting that 4000 IU would go further in meeting the needs of both mother and baby.
Sources of Vitamin D
You can attempt to get your daily vitamin D allowance from foods by paying close attention to your diet. Roughly 3 oz. of cooked salmon will give you 447 IU of vitamin D, while the same amount of mackerel will provide 388 IU, and a large egg has 41 IU. You can find vitamin D fortified milk, yogurt, orange juice, margarine and cereals on grocery shelves. Baby formulas in the United States are all fortified with vitamin D. Fish oils are excellent sources of vitamin D, with 1 tbsp. of cod liver oil having 1,360 IU of vitamin D.
Consideration
Vitamin D can be toxic to your body when used in excessive amounts. The maximum daily amount, or tolerable upper intake level is 4000 IU per day for women, even while lactating. The upper limit for infants is 1000 IU up to six months, and 1500 IU from seven to 12 months. Use care when taking supplements to avoid toxicity to yourself and your nursing child. The American Academy of Pediatrics suggests that breast fed babies be given 400 IU of vitamin D in supplements until they are weaned and drinking fortified formula. Let your doctor help you define and meet your vitamin D needs and that of your baby.