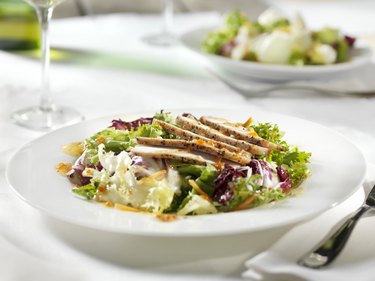 Some people think that the best way to cook marinated chicken tenders involves using Italian dressing. Because the dressing has the three essentials of a good marinade ⁠— oil, vinegar and seasonings ⁠— it's an easy way to tenderize the meat and impart flavor.
Tip
To bake chicken strips in Italian dressing, coat the chicken in the dressing and marinate for 30 minutes. Next, transfer to a baking sheet and bake in a 375 degree oven for 15 to 20 minutes.
A chicken tender is white meat that comes from any part of the breast, while a chicken tenderloin is the part of the meat attached directly to the breast bone. What's the difference between chicken tenders strips and fingers? Chicken fingers are chicken tenders that have been breaded and deep fried. Tenders are larger and less processed than chicken nuggets.
Baked Marinated Chicken Tenders
Chef Alvin Cailin of New York City restaurant The Usual shared his recipe for cooking marinated chicken tenderloins in the oven with LIVESTRONG.com:
2 pounds chicken tenders or tenderloins
2/3 cup homemade Italian dressing (recipe follows)
2 teaspoons kosher salt
1/2 teaspoon freshly ground black pepper
Preheat your oven to 375 degrees. Pull out a rimmed baking sheet, throw a silicone mat on it and set it aside.
Place your chicken in a large bowl. Add your dressing, and toss to coat the chicken evenly. Let marinate for 30 minutes.
Transfer your marinated chicken to your baking sheet, spacing the pieces about 1 inch apart. Sprinkle the salt and pepper over the top of the chicken.
Pop it in the oven for 15 to 20 minutes or until the internal temperature reaches 155 degrees.
Pull the chicken out and let it rest a few minutes. Serve hot with your choice of rice.
Homemade Italian Dressing
If you want to make a simple dressing, always go for a ratio of 3 to 1, oil to vinegar. New-school restaurants like Bestia use a 2 to 1 ratio of oil to vinegar. I prefer the 3 to 1. It's the old-school way, and it'll always taste good.
1/2 cup red wine vinegar
1 tablespoon minced red onion
1 tablespoon minced garlic
1 tablespoon Dijon mustard
1 teaspoon kosher salt
1 teaspoon freshly ground black pepper
1 1/2 cups extra-virgin olive oil
Place the vinegar, onion, garlic, mustard, salt and pepper in a blender and mix on medium speed until fully incorporated, about 30 seconds. Add the olive oil to the blender and blend on high until fully incorporated, about 20 seconds. Take a spatula and scrape all the good stuff from the sides and lid of the blender, and mix it into the dressing. Use right away, or refrigerate it in a jar for up to 1 month.
What Are Marinades
A marinade is an acidic sauce used to tenderize and impart flavor in a food, according to the definition by the United States Department of Agriculture. It normally consists of an oil, an acid such as vinegar or lemon juice, and spices.
Because the acid breaks down poultry tissue, it has a tenderizing effect. When the tissue breaks down, it holds more liquid, which makes the poultry juicier. On the other hand, too much hot sauce or vinegar in a marinade can cause the meat to be tough.
Since Italian dressing is a mixture of oil, vinegar and spices, it's a good option for a ready-made marinade. However, to vary the flavor, you can make your own. Mix a good cooking oil, like olive oil, with wine, vinegar or lemon juice, suggests FoodSafety. Add fresh herbs or dried spices. You could also experiment with flavors from different regions. For example, add soy sauce, garlic and onions for an Asian flair.
How to Marinate Chicken
Never marinate chicken on the counter. Instead, put it in a plastic ziplock bag and allow it to marinate overnight in the refrigerator. It's safe to marinate chicken for up to 2 days if it's refrigerated. Discard the plastic bag after use, to avoid bacterial contamination.
Experts advise against reusing a marinade that has been in contact with raw chicken, unless you boil it first to kill the bacteria. If you intend to use some of the marinade as a sauce on the cooked food, it's best to put some aside for that purpose before pouring it over the chicken.
Cook the chicken thoroughly. Once the internal temperature reaches 165 degrees, it's done.
Baked, marinated chicken tenders are a perfect accompaniment for a salad filled with dark green leafy vegetables. You could also serve it over brown rice, or with your favorite cooked steamed vegetables, such as broccoli or Brussels sprouts, on the side.