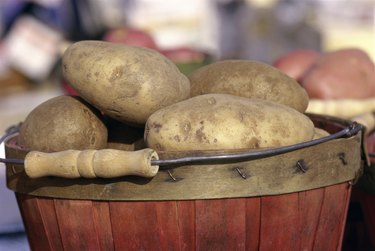 White potatoes are hands-down the best option for baking. While waxy varieties like red, yellow and gold potatoes become soft and creamy in the oven, white potatoes have a relatively high starch content and become light and fluffy when baked. You can use any type of white potato you like, but russets are a favorite because they become exceptionally fluffy with crispy skin and a slightly sweet flavor. Try topping your baked potato with Greek yogurt, chopped herbs, steamed vegetables or fresh salsa for a nutritious side dish or satisfying entree.
Step 1
Preheat your oven to 425 degrees Fahrenheit and position the oven rack in the center rung.
Step 2
Thoroughly clean the potatoes by scrubbing them with a vegetable brush under cold, running water.
Step 3
Prick the potatoes in several places with a fork.
Step 4
Rub the potatoes lightly with olive oil, then season generously with salt and pepper.
Step 5
Place the potatoes on a foil-lined baking sheet and transfer them to the oven.
Step 6
Bake the potatoes until they are easily pierced with a fork, about 45 minutes to an hour depending on the size of the potato. Turn the potatoes over every 20 minutes or so to ensure even cooking.
Things You'll Need
Vegetable scrubber

Fork

Aluminum foil

Baking sheet
Tip
If you prefer soft skin on your potatoes, wrap them in foil before baking.