A convection oven uses air, in addition to the heating elements, to cook your food. A third heating element inside the oven heats the air and a fan circulates the air around the food. This helps to cook foods faster and at lower temperatures, allowing you to lower your cooking temperature by 25 to 50 degrees Fahrenheit and decrease your cooking time by 30 percent. Bake a foil-wrapped potato in your convection oven the same way you would in a regular oven, but reduce the cooking time and temperature.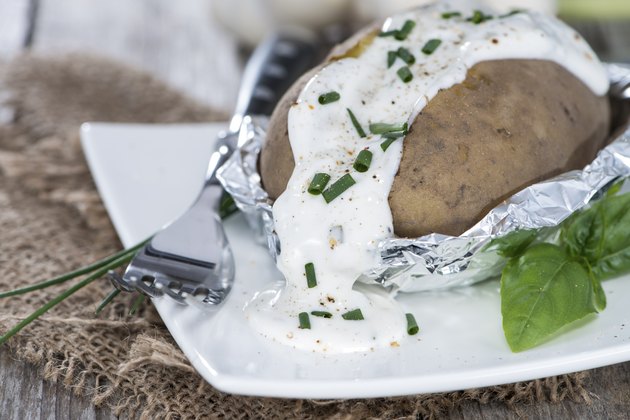 Step 1
Preheat your convection oven to 375 degrees Fahrenheit. This temperature setting is 50 degrees less than a conventional oven. Baking potatoes in a conventional oven requires a temperature of 425 degrees Fahrenheit.
Step 2
Wash your potato well, scrubbing the skin with a clean nylon kitchen scrubber. Scrub hard enough to remove any embedded dirt in the crevasses of the potato, but not so hard you remove the outer layer of skin.
Step 3
Tear a piece of aluminum foil from the foil box 12- to 18-inches long, or large enough to cover your potato. Wrap the potato in the foil, twisting the ends and pressing the foil together, so it does not slip from the potato. Use a fork to pierce the foil and potato in five or six places.
Step 4
Place the potato directly onto the convection oven baking rack and bake for 30 to 40 minutes. Pull the potato from the oven using an oven mitt or tongs. Check for doneness by inserting a fork through the foil and into the potato. The potato will feel tender, and the fork should meet with no resistance when fully baked. Return the potato to the oven and bake for an additional 10 minutes if the potato feels hard.
Things You'll Need
Nylon kitchen scrubber

Aluminum foil

Fork

Oven mitt or tongs
Tips
Remove the potato from the foil and return it to the oven for 5 to 10 minutes, should you desire crispy skin.
Serve the potato with toppings, such as minced chives, sour cream, butter, crisp bacon bits, and sharp cheddar cheese.
Turn your baked potato into a main entrée by topping it with pot roast, or chile and cheese.
Warning
Take care when removing the foil from the potato to avoid having your skin come into contact with the escaping steam.