For your body to function properly, the pH of your blood has to be held close to 7.4 and generally ranges from 7.35 to 7.45. As any pH over 7.0 is considered basic or alkaline and anything under 7.0 is considered acidic, ensuring that you maintain a slightly alkaline pH balance is important. Although the health effects of drinking alkaline beverages are debatable, doing so may help you to maintain a healthy acid-base balance.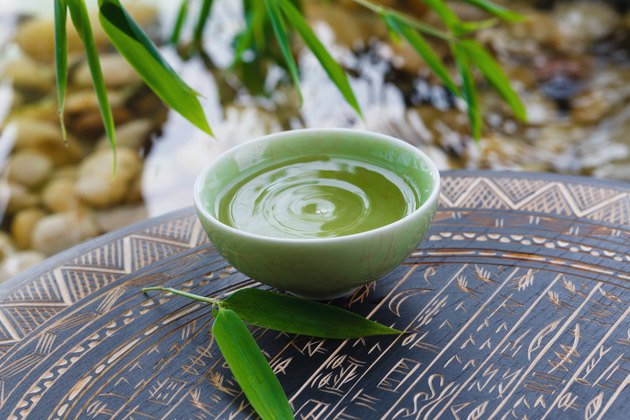 Water
According to Janet Stein Carter, associate professor of biology of the University of Cincinnati's Clermont College, well water is slightly basic, with a pH of 7.08. Infusing water with ginger increases its pH to 7.21, while adding orange blossoms to water may help to increase its pH to 7.54. In addition to these infused beverages, some bottled waters manufacturers' standard products are alkaline, such as Evian, with a pH of 7.64, Fiji at 7.6, and Arrowhead Spring Water, which has a pH of 7.42.
Dairy
Whole milk has a pH of 7.33. Similarly, buttermilk is recommended as a highly alkaline drink for those following the Acid Alkaline Diet. Due to the low fat content of most commercial cow's milks, however, Dr. David Murphy of Self Growth recommends goat's milk over cow's milk as a naturally alkaline beverage.
Tea
While coffee and black teas are acidic, herbal and green teas are recommended as naturally alkaline beverages. With a pH of 7.2 for brewed tea, you may be able to make teas more alkaline by using infused or well water. As honey, whole milk and goat's milk are all suggested as alkaline substances, adding these to your tea also may increase its alkalinity.
Fruit Drinks
Despite their high citric acid content, both lemons and limes are naturally basic. A number of other fruits are also basic, such as bananas, avocados, sour cherries, coconuts, watermelons and tomatoes. While commercially available juices may not retain these alkaline properties, juicing such fruits or using them in smoothies may help to increase your alkaline beverage intake. Including naturally alkaline vegetables, such as carrots, celery, cucumber, wheatgrass, broccoli and zucchini, in your juices and smoothies can help to produce a drink that is both naturally alkaline and high in a number of vitamins and minerals.