Your body's pH level plays an important role in maintaining your day-to-day functioning and overall health. A pH of 7 is considered neutral, less than 7 is acidic and greater than 7 is alkaline, or non-acidic. The human body normally has a slightly alkaline pH of 7.4. Eating certain foods and exercising can affect your body's pH level, but your kidneys and lungs work to keep your body's pH level normal. To maintain a healthy body, consume non-acidic fruits and vegetables more often.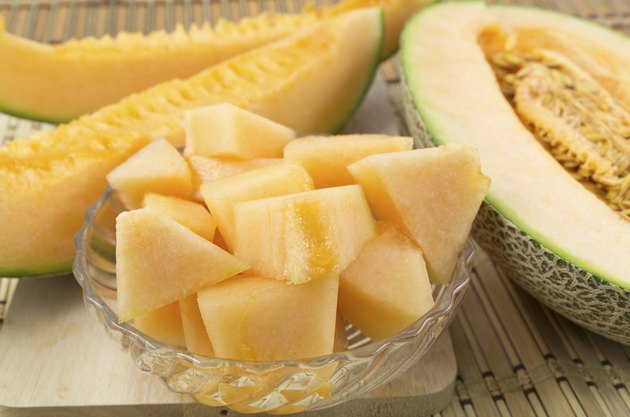 Non-Acidic Fruits
The majority of fruits are considered to be alkaline producing foods. Anything with a pH greater than 7 is considered to be alkaline and is non-acidic. When it comes to foods, it is not the acid in the food that matters, but rather what occurs in your body once the food is consumed. For example, citrus fruit flesh and juice are acidic, but in your body they are alkaline-producing foods. Lemons, limes, avocados and kiwi are categorized as highly alkaline fruits and are therefore non-acidic. Other non-acidic fruits include bananas, cantaloupe, apples, coconut, grapefruit, grapes, oranges and watermelon.
Non-Acidic Berries
Berries, which belong to the fruit group, are often found to be non-acidic and have an alkaline pH level. Strawberries, blackberries, black currants, raspberries and red currants are all non-acidic berries. Most berries will have a pH greater than 7. Exceptions are cranberries and blueberries, a couple of the few types of berries classified as acidic.
Non-Acidic Vegetables
The majority of vegetables contain an alkaline pH level and do not generate acids when consumed. You may need to be wary of some canned, frozen or pickled vegetables, however, since processing and packaging can change the pH level of these vegetables to become acidic. You don't need to worry about changes in pH level with fresh vegetables. Asparagus, broccoli, cucumbers, kale, beets, carrots, cabbage, Brussels sprouts, celery, lettuce, peppers, collard greens, pumpkin and onions are non-acidic vegetables.
Legumes and Non-Acidic Herbs
Legumes are often labeled as vegetables, according to the United States Department of Agriculture, and herbs are plants. Most lists consider all legumes to be acid-producing foods, although some lists, such as one from the University of San Diego, consider soybeans and Lima beans as less acid-producing. On the other hand, most herbs are considered alkaline, or non-acidic.