Eating an alkaline diet got a big boost a few years ago when celebrities touted it as a way to stay slim and muscular. But, while there are health benefits to eating non-acidic foods, especially if you have kidney disease, that doesn't mean you should avoid acidic foods altogether.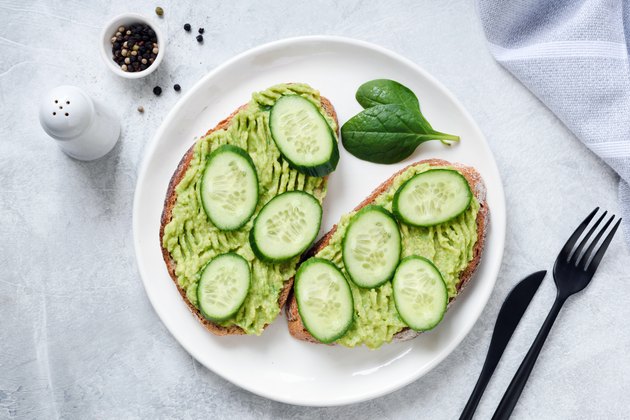 Tip
If you're considering eating non-acidic foods, check with your doctor and make sure you aren't missing any essential vitamins and minerals.
Non-Acidic Fruits and Vegetables
When you focus on low acid foods, you are really looking for foods with a low-acid load. That means they produce a negative acid load response in your body. This is mostly fruits and vegetables.
Cucumber
Tomato
Broccoli
Eggplant
Celery
Kale
Brussels sprouts
Fruits, fruit juice and nuts that produce a negative acid load include:
Apples and apple juice
Apricots
Bananas
Black currants
Raisins
Grape juice
Black currants
This list of least acidic fruits and vegetables is certainly not a complete list. Most fruits and vegetables when metabolized produce alkali, which neutralizes acid through the kidneys, according to the Journal of Renal Nutrition.
What Is the pH Scale?
The pH scale measures the acidity or alkalinity of a solution, according to Science Buddies. Scientists use a logarithmic scale to measure pH levels, based on 14, with 7 being the middle, or neutral. A solution that can produce, or donate, hydrogen ions is considered acidic, with a pH of 1-6.9. A solution that can accept hydrogen ions is considered alkaline, or base, with a pH higher than 7.
Pure water is neutral, neither acidic nor alkaline, Science Buddies says. But fluid produced in food can vary along the scale. Any food may measure acidic but may produce an alkaline reaction in your body. So if you're seeking a lower acid diet, you want to look for alkaline-producing foods.
The human body produces fluids that also vary along the pH scale, according to the Journal of Environmental and Public Health. Bile, for example, is typically 7.6 to 8.8 along the pH scale, so it's neutral to slightly alkaline. Your skin is slightly acidic, between 4.6 and 6.5. Urine ranges from 4.6 to 8, depending on what you eat, while gastric fluid, which breaks down protein, is 1.35 to 3.5, which means it's pretty acidic.
Why Low Acid?
The typical low-alkaline or non-acidic diet often specifies no meat, no dairy, no gluten and no sugar. There can be some health benefits to diets that cut out some of these acid-producing foods, especially for your kidneys, says the Polycistic Kidney Disease Foundation, specifically by reducing your risk of kidney stones. A review first published in 2012 in the Journal of Environmental and Public Health that is still frequently cited found that there are health benefits in focusing on foods that are more alkaline in the body.
There's no evidence that an alkaline diet improves bone health or prevents osteoporosis, the authors concluded. It may benefit your bones in other ways, however. The authors added that there is benefit to bone health in eating more fruits and vegetables in an alkaline diet.
The study said, "Increased fruits and vegetables ... may benefit bone health, reduce muscle wasting, as well as mitigate other chronic diseases such as hypertension and strokes." The authors added that eating foods that are alkaline in the body help to increase growth hormone, which in turn helps with heart, memory and cognitive health.
A November 2012 study published in the journal Osteoporosis International concluded that there is a small but significant increase in muscle mass for healthy women who eat a diet rich in alkaline-producing foods. Although protein is important for muscle mass, the study said, fruits and vegetables with potassium and magnesium are also important.