The type of abortion your doctor chooses for you will depend on the stage of pregnancy to which you have progressed. Generally, abortions that occur earlier in pregnancy have a shorter recovery period since they are less extensive. If you undergo a later-stage abortion, you can expect a longer recovery time. It's important you discuss the various types of abortion and the aftercare for your chosen procedure so you know exactly how the abortion will affect your body, and what that means as you return to your regular activities, such as exercising.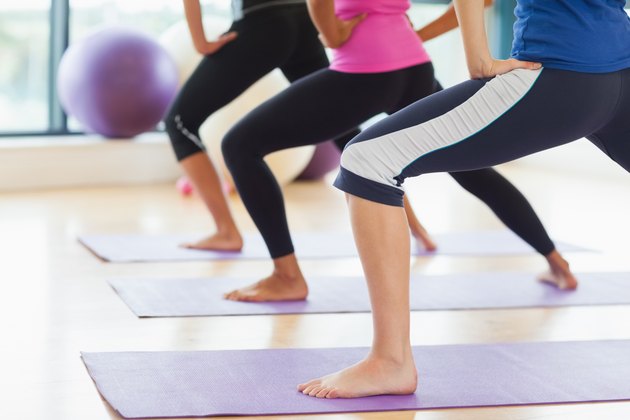 Physician Recommendations
The doctor who performs your abortion will be familiar with your individual case, the type of abortion you've undergone and what that means for your recovery. Have a discussion after the procedure about how to return to your normal activities. If there were complications, you may have a longer recovery period than is traditional after an abortion. If you forget to ask, call into the clinic and talk to a nurse, who can obtain your file and give you personal recommendations with a physician's help.
Immediately After
Immediately after your procedure, you may feel groggy depending on the type of anesthesia your doctor used. While it's likely fine for you to walk, you may want to ask a friend or family member to drive you home from the clinic so you can rest and recover. In the next few days following your procedure, it's fine to resume general daily activities, such as cleaning the house, walking or going to work and school as necessary. The only lasting effects may be some spotting and cramping.
After a Week
After a week to 10 days, you can begin to resume a normal exercise schedule, so long as you feel comfortable. If you begin to exercise and notice excessive bleeding, stop exercising and contact your doctor immediately. If possible, ease into your workout routine to acclimate your body to exercise and to give yourself time to assess your body's reaction. Watch for warning signs of a problem, such as heavy bleeding, passing blood clots, a fever over 100 degrees Fahrenheit or severe pain.
Low-Impact Exercise
Low-impact exercise is best when you begin exercising again. This means exercise that is easier to do as you acclimate to your workout routine again. Start with light exercise, such as walking, lifting light weights or yoga. As you feel stronger, you can add heavier weights, go for a jog or ride your bike. It's important that you take your time and listen to your body as you go back to normal after your abortion.