Some people may consider pizza to be a junk food, but it can be beneficial as a post-workout snack or meal if you use whole wheat crust and healthy toppings. Eating the right amount of carbohydrates and proteins after a workout can speed muscle recovery and help your body refuel so that you have more energy. Eat pizza within two hours of finishing a workout to stimulate muscle synthesis and repair. Pizza is more likely to be an appropriate post-workout snack after a long, intense workout rather than a short, low-intensity session, such as walking.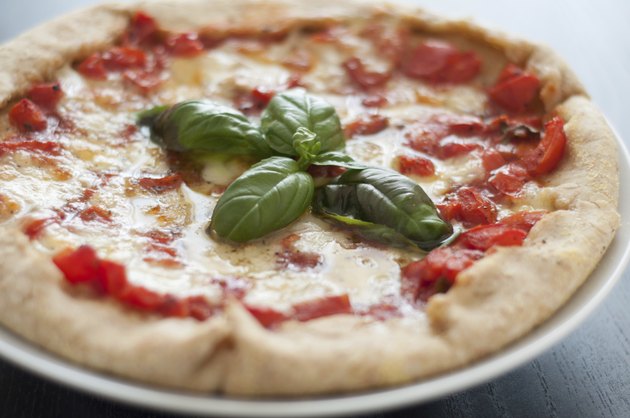 Pizza Provides Nutrients for Recovery
A slice of cheese pizza provides 36 grams of carbohydrates and 12 grams of protein. Iowa State University suggests that athletes who are training hard should get 100 to 200 grams of carbohydrates and at least 7 to 20 grams of protein for a post-workout meal. A three-slice portion of cheese pizza helps you meet these recommendations. Another option is to have two slices of cheese pizza, with 72 grams of carbohydrates and 24 grams of protein, and a 16-ounce glass of orange juice, with 50 grams of carbohydrates and 3 grams of protein. If you are exercising to stay in shape or lose weight, eating a calorie-controlled meal is a higher priority than eating a meal high in carbohydrates and calories. In this case, a single slice of pizza can be an occasional post-workout treat.
Pizza Provides Essential Nutrients
A slice of cheese pizza has 201 milligrams of calcium, or 20 percent of the daily value for calcium. Calcium is an essential nutrient for building and maintaining strong bones. Each slice provides 2.7 milligrams of iron, or 15 percent of the daily value. Iron is necessary for preventing anemia, and some athletes, especially female athletes, are at risk for inadequate intake, according to Colorado State University. Pizza also provides vitamin A and niacin, or vitamin B-3. Alternatively, you can get these nutrients from healthier foods. For example, non-fat milk provides calcium and vitamin A, and tuna provides iron and niacin.
Consider Nutrition as You Eat Pizza
Pizza is a high-fat food, with each slice of cheese pizza providing 10 grams of fat, or 15 percent of the daily value on a 2,000-calorie diet. Order pizza with less cheese or use low-fat cheese to get less fat. Skip high-fat toppings such as pepperoni, which has 12 grams of fat per ounce. To get more nutrients, order extra vegetables and consider nutritious protein sources, such as anchovies. Drink fluids after you exercise to replace losses from sweat.
Make Your Own Post-Workout Pizza
Customize your own pizza to make it more nutritious. Use a whole wheat English muffin or pita instead of a refined white crust to increase the dietary fiber and antioxidant content of your post-workout pizza meal. Whole grains are also natural sources of iron and B vitamins. Pile vegetables, such as onions, tomatoes, sliced mushrooms, and red and green bell peppers for extra dietary fiber as well as essential nutrients such as potassium and vitamin C. You can get extra protein by adding grilled chicken breast.