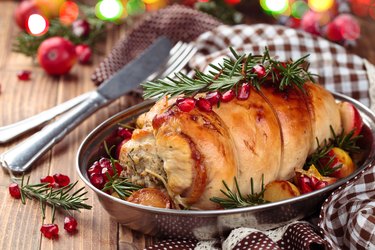 Turkey chops are tender slices cut from the breast of the turkey. They look — and taste — a lot like lamb, veal or pork chops, but this lean cut of protein is lower in fat and calories.
A 3-ounce serving of turkey breast (without the skin) has 125 calories and about 2 grams of fat and 26 grams of protein. "They're a great lean protein option with minimal fat or saturated fat," says Krista King, RDN. The chops are also similar to boneless turkey cutlets and recipes are generally interchangeable.
"Turkey chops are a terrific and flavorful alternative to your standard chicken breast," Yankel Polak, head chef at ButcherBox, tells LIVESTRONG.com. Turkey chops are both easy to cook and versatile, Polak says. "Similar to a chicken breast, it works with nearly any flavor combination, so it's really an opportunity to use up whatever you have around the kitchen or try out something new and adventurous."
How to Choose Turkey Chops
At the grocery store, your best bet is to choose frozen turkey chops. That's because the turkey is frozen at the peak of freshness, immediately after being processed, says Polak. Fresh turkey, in contrast, will travel unfrozen for a while before reaching your supermarket's meat aisle, he says.
Both thick and thin chops are available. A thinner cut will cook faster, points out King. But Polak generally opts for thicker chops. Larger cuts that are cooked slowly taste better and stay juicer, he says.
How to Make Grilled Turkey Chops
Turkey chops
Wine, ketchup, lemon juice or vinegar
Brown sugar, honey or molasses
Worcestershire sauce or soy sauce
Olive oil
Thyme, sea salt or minced garlic
Resealable plastic bag
Paper towels
Grill

Place an acidic liquid such as wine, ketchup, lemon juice or vinegar into a bowl. Stir in brown sugar, honey or molasses, along with your choice of additional flavorings such as Worcestershire sauce, soy sauce, thyme, sea salt or minced garlic.
Stir in a small amount of olive oil until the marinade is the consistency of smooth paste.
Rinse the turkey chops and pat them lightly with paper towels. Put the marinade in a resealable plastic bag and add the chops to the bag. Squeeze the bag lightly to coat the chops and remove as much air as possible and seal the top.
Place the chops in the refrigerator and let them marinate for 1 to 8 hours.
Preheat an outdoor or indoor grill to medium heat. Place the chops on the hot grill and cook them for about 3 minutes per side or until the internal temperature of the turkey chops reaches 165 degrees Fahrenheit.
Tip
To determine the temperature of a thin cut of meat, insert a meat thermometer into the side of the chop with the tip of the thermometer in the thickest part of the meat. Turkey chops are done when their internal temperature reaches 165 degrees Fahrenheit, per the U.S. Department of Health & Human Services.
How to Make Baked Turkey Chops With Veggies
Turkey chops

Baking dish
Chopped vegetables
Butter or cooking oil
Salt, pepper and herbs and seasonings (such as sage or thyme)
Aluminum foil
Place turkey chops in a glass or enamel baking dish. Top the chops with your choice of chopped vegetables such as red and green bell peppers, onions, garlic and mushrooms. (For more flavor, sear the chops in a pan for one minute on each side or until they are a golden brown before placing them in the baking dish.)
Sprinkle the vegetables with salt and pepper and seasonings such as thyme or sage.
Cover the pan with aluminum foil and bake the dish at 350 degrees Fahrenheit for 45 to 60 minutes. The chops are done when their internal temperature reaches 165 degrees Fahrenheit.
How to Make Thanksgiving Turkey Chops
Turkey chops
Butter or cooking oil
Onion

Garlic
Chicken stock or broth
Bread crumbs or 1 box of instant stuffing mix
Cranberry sauce (optional)
Milk or half-and-half
Canned cream soup
Large saucepan
Baking dish
Heat a small amount of butter or cooking oil in a large saucepan, and then sauté chopped onion and garlic in the hot oil until tender.
Pour in chicken stock or broth and bring the mixture to a boil, then remove the pan from the burner and stir in dry bread cubes or a box of instant stuffing mix. Use a 12-ounce can of broth for every cup of stuffing. Save a small amount of dry stuffing to garnish the top.
Spread the mixture in a baking dish. If desired, spread a layer of cranberry sauce over the stuffing.
Arrange the turkey chops on top of the cranberry sauce and stuffing and cover the chops with a mixture of milk or half-and-half and your choice of soup such as cream of chicken, celery or mushroom. Use about one-third cup of milk for every can of soup.
Place the dish in an oven preheated to 375 degrees Fahrenheit and bake the chops for about 45 to 60 minutes. The turkey chops are done when their internal temperature reaches 165 degrees Fahrenheit.
Tips to Avoid Dry Turkey Chops
Because turkey chops are so lean, they have a tendency to dry out. To avoid that outcome, try these strategies:
‌Use a marinade:‌ Marinating or brining the chops infuses them with moisture and will reduce the risk of dry meat, says Polak.
‌Sear first:‌ Sear the chops in a pan before finishing them in the oven, says Polak. That'll provide a "nice brown crust," he says.
‌Add liquid to the pan:‌ For baked turkey chops, add liquid to the bottom of the baking dish. "This creates a moist environment and keeps the chops nice and juicy," says Polak.
‌Watch the cooking time:‌ Make sure not to overcook chops, since they'll get tough.
‌Let them rest:‌ Once the chops are finished cooking, let them rest in whatever liquid you used during the cooking process, advises Polak. "This will allow them to reabsorb any lost moisture and make them extra juicy."
Was this article helpful?
Thank you for your feedback!