Turkey chops are thin, bone-in 4- to-8-ounce slices cut from the breast of a turkey. The tender chops look and taste much like lamb, veal or pork chops and use similar cooking techniques. However, turkey chops are lower in fat and calories. Turkey chops are also similar to boneless turkey cutlets and recipes are generally interchangeable. Use a meat thermometer to be sure turkey chops are cooked to a safe temperature of 165 degrees Fahrenheit, but be careful not to overcook them. Turkey chops are lean and overcooking causes dry, tough meat.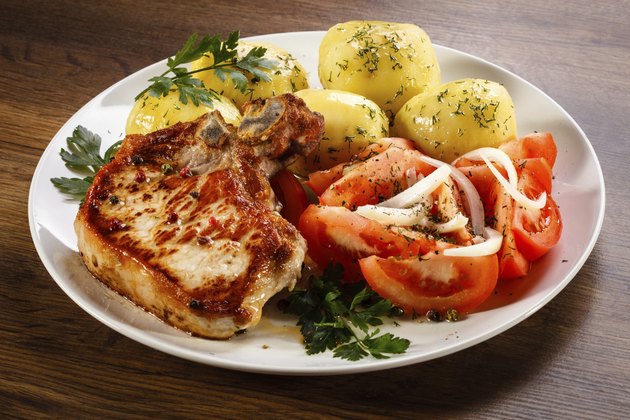 Vegetables Make a Whole Meal
Step 1
Place turkey chops in a glass or enamel baking dish. Top the chops with your choice of chopped vegetables such as red and green bell peppers, onions, garlic or mushrooms.
Step 2
Sprinkle the vegetables with salt and pepper and seasonings such as thyme or sage.
Step 3
Cover the pan with aluminum foil and bake the dish at 350 degrees Fahrenheit for 45 to 60 minutes or until the chops are cooked through and no longer pink.
Stuffing For Holidays or Any Day
Step 1
Heat a small amount of butter or cooking oil in a large saucepan, then saute chopped onion and garlic in the hot oil until they are tender.
Step 2
Pour in chicken stock or broth and bring the mixture to a boil, then remove the pan from the burner and stir in dry bread cubes or a box of instant stuffing mix. Use a 12-ounce can of broth for every cup of stuffing. Save a small amount of dry stuffing to garnish the top.
Step 3
Spread the mixture in a baking dish. If desired, spread a layer of cranberry sauce over the stuffing.
Step 4
Arrange the turkey chops on top of the cranberry sauce and stuffing and cover the chops with a mixture of milk or half-and-half your choice of soup such as cream of chicken, celery or mushroom. Use about one-third cup of milk for every can of soup.
Step 5
Place the dish in an oven preheated to 375 F and bake the chops for about 45 to 60 minutes, or until the chops are cooked through and no pink remains.
Quick and Healthy Grilled Chops
Step 1
Place an acidic liquid such as wine, ketchup, lemon juice or vinegar into a bowl. Stir in brown sugar, honey or molasses, along with your choice of additional flavorings such as Worcestershire sauce, soy sauce, thyme, sea salt or minced garlic.
Step 2
Stir in a small amount of olive oil until the marinade is the consistency of smooth paste.
Step 3
Rinse the turkey chops and pat them lightly with paper towels. Put the marinade in a resealable plastic bag and add the chops to the bag. Squeeze the bag lightly to coat the chops and remove as much air as possible and seal the top.
Step 4
Place the chops in the refrigerator and let them marinate for 1 to 8 hours.
Step 5
Preheat an indoor or outdoor grill to medium heat. Place the chops on the hot grill and cook them for about 3 minutes per side or until the meat juices are clear.
Things You'll Need
Glass or enamel baking dish

Chopped vegetables

Butter or cooking oil

Chicken stock or broth

Dry bread cubes or 1 box of instant stuffing mix

Cranberry sauce (optional)

Canned cream soup

Milk or half-and-half

Salt and pepper

Brown sugar, honey or molasses

Worcestershire sauce or soy sauce

Thyme, sea salt or minced garlic

Resealable plastic bag
Tip
To determine the temperature of a thin cut of meat such as a turkey chop, insert a meat thermometer into the side of the chop with the tip of the thermometer in the thickest part of the meat.