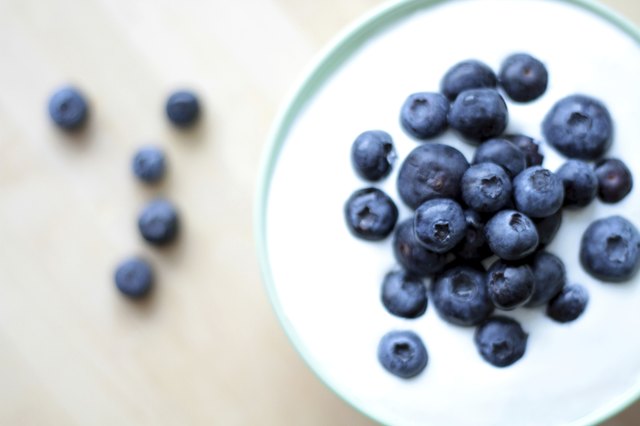 Activia yogurt comes in many different flavors and varieties, including regular, Greek, light and fiber-fortified yogurt. All contain a mixture of probiotic bacteria, which are live cultures that contribute to the health of your gastrointestinal tract and immune system. When you enjoy a container of Activia, you'll also get calcium and protein, but the amount of other nutrients varies, so check the label on your favorite type.
Probiotics in Activia
Activia contains probiotics, which are live bacteria that benefit your health. These bacteria are similar to, or the same as, the good bacteria that naturally live in your large intestine. One of the probiotics in Activia is often referred to by a proprietary name -- Bifidus regularis -- and the product label also lists two other strains of beneficial bacteria. These probiotics help boost the number of good bacteria in your large intestine and support your immune system. They also ferment some types of fiber, producing energy they use themselves and some usable calories for your body.
Benefits the Gut
Probiotics may help regulate bowel movements in people with irritable bowel syndrome and may reduce inflammation caused by ulcerative colitis, according to information from the American Gastroenterological Association. These healthy bacteria could also prevent diarrhea caused by bacteria, according to a review published in the May 2013 issue of the "Cochrane Database of Systematic Reviews." Probiotics may also help you recover from any type of diarrhea more quickly. In December 2010, the Federal Trade Commission ruled that advertisements for Activia yogurt must report that three daily servings are needed to relieve irregularity.
Supports Bone Health
Your bones reach maximum density and strength between the age of 20 and 30, reports Purdue University. After you reach 40, you begin to lose bone at the rate of about 0.5 percent to 1 percent each year, and the loss accelerates for women in the first few years after menopause. Including enough calcium in your diet helps replace bone loss and also helps keep your nerves and muscle working. Many, but not all, varieties of Activia are fortified with 15 percent of the daily value of vitamin D, if you consume 2,000 calories daily.
Provides Low-Fat Protein
Activia is a good choice for a healthy snack or a light meal. One container of light vanilla Activia has 60 calories, Greek varieties have 140 calories and other types provide 110 calories. They all contribute protein you need to build muscles and support your metabolism. Most varieties provide 8 percent of the daily value of protein, but Activia Greek yogurt contains three times the protein of other types. Light and Greek Activia are fat-free products made from skim milk, while other types are still low in fat, with only 2 grams per container. If you need extra fiber in your diet, choose fiber-fortified Activia products, which contain added fiber in the form of inulin.