If you and pushups have a love-hate relationship, get on your knees as a way to make this exercise easier. You can't expect to able to drop and do 20 pushups if you're new to exercise, or if it's been a while since your last workout. Pushups are an intense body-weight exercise to strengthen your chest, shoulders and arms. If these three muscle groups aren't strong enough to support your weight, let a stability ball support you for an easier workout. Other pushup modifications include changing the range of motion, hand position and speed of your exercise. Although these are small changes, you feel big relief from the reduced pushup intensity.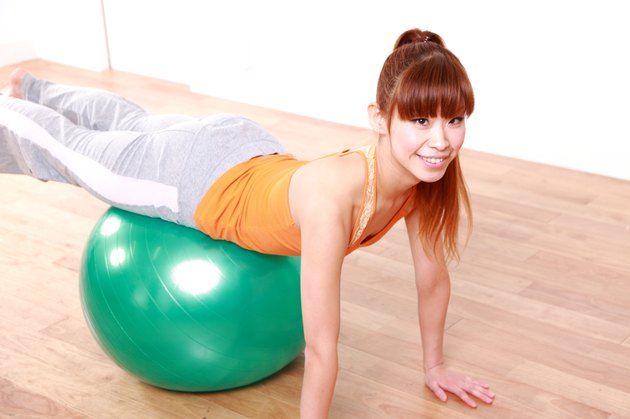 Step 1
Perform the pushup with your knees on the floor to lessen the resistance from your weight. Position your hands underneath your shoulders. Slide your knees backward until your body forms a straight line from your knees to your head. Perform your pushup by bending your elbows and lowering your torso toward the floor. Straighten your arms to the start position to complete a rep.
Step 2
Make your pushup easier on your wrists and slightly decrease your range of motion by placing your hands on dumbbells. Position a pair of dumbbells so the handles are parallel to each other and underneath each of your shoulders. Place your hands on the dumbbells with your palms facing toward each other. Straighten your legs and press your toes into the floor, or rest your bent knees on the floor. Inhale, bend your elbows and lower your torso until your chest is level with your raised hands. Exhale, straighten your arms and return to the starting position.
Step 3
Lie face down with your torso on top of a stability ball to support a portion of your body weight for the pushup. Slide the ball up or down your midsection until you can keep both feet and both hands on the floor for a four-point contact. Straighten your arms and your legs, and position your hands slightly wider than your shoulders. Inhale, bend your elbows and lower your chest and chin toward the floor as far as you can. Exhale, straighten your arms and return to the starting position. Move the ball closer to your head to make the pushup easier.
Step 4
Perform wall pushups for an easier variation. Stand approximately 2 feet away from a wall. Place your hands on the wall at shoulder height and slightly wider than shoulder-width apart. Bend your elbows and lower your upper body toward the wall; return to starting position to complete a rep.
Tip
Complete your pushup exercises two or three days a week with at least one day of rest between sessions to allow time for muscle recovery, which will make your next session easier.
Warning
Speak with your doctor if you are new to an exercise program.