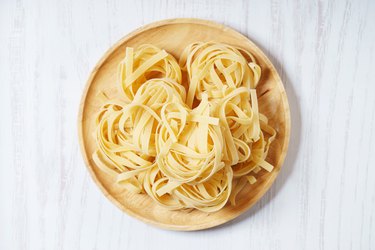 For those who lead busy lives, a pressure cooker — sometimes known by the brand name Instant Pot — can be a miracle worker. If you plan to use your Instant Pot for pasta, you'll find it's a simple way to make a satisfying meal in far less time and with far less effort.
Why the Instant Pot?
Your pressure cooker is such a useful kitchen gadget because, as Utah State University explains, the high pressure it uses to cook food takes anywhere from one-third to one-tenth of the time. And it's a healthier option than other methods: Pressure cooking requires no added fat, and because the food is not submerged in liquid, you don't have to worry about important vitamins and minerals being boiled away as you would if you were to cook by boiling.
In general, when you use your Instant Pot for pasta or other recipes, you should follow the instructions that come with your specific product, as each type will work a little bit differently. Utah State University points out that some pressure cookers are the electric kind, which simply need to be plugged in, set to the proper pressure and time, and allowed to work their magic. Other pressure cookers are the stovetop kind, which cost less money, but you have to manually control the amount of pressure.
If you are using your Instant Pot for pasta, be very careful. Utah State University notes that food that foams or froths — such as pasta does — can be tricky in a pressure cooker. And because pasta expands when it cooks, you should not fill the pot more than half full.
Using Instant Pot for Pasta
First, from a nutritional perspective, you need to choose whether you want to make egg noodles in your Instant Pot or regular spaghetti noodles in your Instant Pot. Both are healthy options, although their ingredients are slightly different.
Per the USDA, egg noodles are made from durum flour or semolina, eggs and water. Therefore, they are a great source of iron, thiamine, niacin, riboflavin and folic acid. Like traditional pasta, a half-cup cooked counts as a 1-ounce serving of grains. However, you might opt to go for spaghetti noodles made with whole wheat, such as this type listed by the USDA that is made with at least 50 percent whole grain. Both work as a nice base for healthy meals combining vegetables and proteins.
The beauty of using a pressure cooker to prepare such a meal is that you don't have to boil the pasta separately from the meat and veggies in the sauce. In a recipe by the University of Texas Health Science Center at Houston for garden penne with ground beef, you start by letting the beef cook under the sauté option on the pressure cooker, then switch it to pressure cook once you add the pasta and liquid. Although the recipe calls for penne pasta, you might opt to use egg noodles or spaghetti noodles in your Instant Pot.
In other situations, it might be better to use your Instant Pot to cook your meat and sauce separately from your noodles. In this recipe for Instant Pot Turkey Bolognese, you'll cook ground turkey, vegetables and seasoning in the Instant Pot and boil pasta the traditional way on the stovetop. You'll combine them together when both are done cooking.
You cook the whole spaghetti squash on high pressure for only 20 minutes, then you can cut it in half to remove the pulp and start to scrape away the "noodles" from the flesh of squash. It's a great way to increase your intake of vegetables; however, if you go with this method, you will need to cook your sauce and toppings separately.