Steam trapped inside a pressure cooker builds to 15 lb. per square inch. This causes water to boil at 250 degrees Fahrenheit rather than 212 degrees in an uncovered pot. The higher temperature inside the pressure cooker allows foods to cook in one-third less time than it would take to cook foods normally. Cooking noodles in a pressure cooker is no different from cooking other meals in a pressure cooker. You can cook the noodles in less time, with less water, still resulting in noodles tender enough to use in your favorite recipes.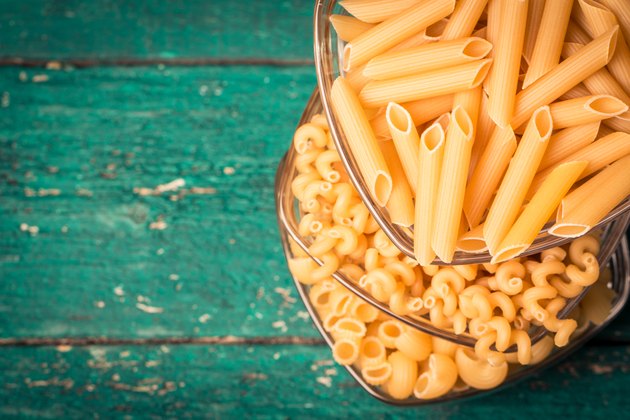 Step 1
Place your dry noodles into the pressure cooker. Fill your cooker only half full with dry noodles to allow for the expanding noodles.
Step 2
Cover the dry noodles with water. Use only enough water to just cover the noodles. Add 1 tbsp. cooking oil to keep the noodles from foaming.
Step 3
Secure the lid on the pressure cooker. Bring the cooker up to cooking pressure by setting the stove's burner to high heat. Once steam begins to escape from the pressure regulator and around the lid, turn the heat down under the cooker immediately to between medium and medium-high. If the steam stops escaping from the cooker, the heat is too low. Turn the heat up slightly to reestablish the steam. This varies from pressure cooker to pressure cooker.
Step 4
Cook fettuccine, spaghetti, linguine or small elbow macaroni for 6 minutes once the steam begins escaping from the cooker. Cook shells, egg noodles, bow pasta or ditalini for 5 minutes; cook alphabets, tubetti or orzo for 3 minutes and rigatoni, ziti, penne, rotini or large elbow macaroni for 7 minutes.
Warning
Failure to turn the heat down beneath the pressure cooker once high pressure is established could result in the cooker's exploding from the extreme pressure build-up.